Magnetic Tape Encoders mount directly, repeatedly to shafts.
Press Release Summary: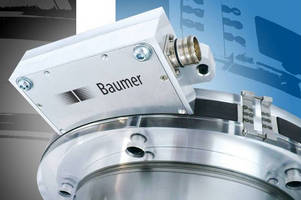 Used for speed and position monitoring, HDMag series is comprised of bearing-less and contact-free encoders that attach to drive or generator shaft via customized, flexible magnetic tape. Products can be installed and removed repeatedly without affecting performance, and read-head incorporates dual sensor head mounted to frame over flexible tape. This operates without interruption over fastening gap in tape ends and has no effect on encoder output signal.
---
Original Press Release:

Highly-Adaptable Magnetic Tape Encoders Mount Directly to Large Shafts for Speed and Position Monitoring



Southington, Conn. -- For speed and position monitoring on large diameter shafts, Baumer introduces their HDMag line of high-precision, bearing-less and contact-free magnetic tape encoders. Replacing expensive and complicated specialized solutions that require belts, gears, couplings and linkages, the HDMag series of encoders is easy to install and will direct mount onto almost any large-shaft torque motor or generator.

Using Baumer's patent-pending HDMag MSGP sensor technology, the series consists of a magnetic encoder attached using flexible magnetic tape. The customized tape can be easily buckled onto the drive or generator shaft, just like a belt. With the help of the welded fastener, the tape is tightened on the shaft and can be quickly exchanged when required. The narrow read-head incorporates an integrated dual sensor head that is mounted to a frame over the flexible tape. This takes up minimal space on the shaft and operates without interruption over the fastening gap in the tape ends, and has no effect on the encoder output signal.

The unit can be installed and removed repeatedly without affecting performance, and offers wear-free speed and position feedback with a nearly unlimited service life.

To ensure uninterrupted sensing across the fastening gap, the flexible magnetic tape encoder features an integrated dual sensor head and a signal processing unit (patent pending). The large permissible tolerances on axial displacement (+/- 5 mm) and air gap (up to 3 mm) ease alignment of the sensor head and also ensure reliable detection unaffected by mechanical backlash and vibrations. The fully encapsulated electronics integrated in the sensor head are optimally protected against soiling, shocks and vibrations. The integrated FPGA-based signal processing allows for very high angular resolutions, better than 0.003° respectively more than 100,000 ppr, and will remain unaffected by thermal shaft expansion.

For more information on Baumer's HDMag line, contact Baumer Ltd. at 800-937-9336 or via email at sales.us@baumer.com.

The Baumer Group is a leading international manufacturer of sensors and system solutions for factory and process automation. In 2011 the innovative family-owned company employs about 2,500 people worldwide in 36 locations and 18 countries. The long lasting success is built on high customer focus as well as the innovative and diversified product range of the product segments Sensor Solutions, Motion Control, Vision Technologies, Process Instrumentation, and Gluing Systems. For further information please refer to www.baumer.com.

Press contact:
Cassandra Scarpati
Marketing - Communication
Product Segment Motion Control
Phone +860 620 6388
cscarpati@baumer.com
www.baumer.com