Magnetic Separator keeps product free of ferrous content.
Press Release Summary: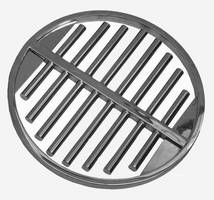 Designed for use on Compact sieves, 316L stainless steel magnetic separator helps ensure food and pharmaceuticals remain free from ferrous contaminants. Particles are attracted to and securely held on bars which can be wiped clean between batches. Number and placement of bars promote balanced coverage of open space and magnetic field strength without restricting throughput. Ferrite model achieves 4,500 Gauss, while rare earth options reach up to 14,500 Gauss.
---
Original Press Release:

New Easy-Clean Russell Magnetic Separator Attracts Food and Pharmaceutical Manufacturers



Operating in highly competitive environments, food and pharmaceutical manufacturers know just how important product quality is. With reputations at stake, and the threat of litigation present should they fail to meet high standards, these companies must ensure their products are free from any contamination.

Russell Finex, a market-leading provider of fine mesh separation technology, has a rich history serving these industries. It has long supplied screening and separation solutions to food and pharmaceutical customers, ensuring total product quality. However, in some instances, companies face the problem of ferrous contaminants, which are difficult to extract using traditional sieves alone.

Ferrous contamination can occur at several points along the production line. For example, as raw materials are processed through different stages, wear and tear of equipment can result in metal particles such as rust or iron falling into the product, jeopardizing product purity.

A new stainless steel magnetic separator has been launched by Russell Finex to eliminate the problem of ferrous contamination and to improve product quality. To be used on the range of Compact sieves, including the high-containment Compact Airlock, as well as the Finex 22 model, the magnet instantly attracts ferrous particles and securely holds them onto its bars, keeping unwanted material out of the final product. The number of bars in place is optimized to strike the right balance between coverage of open space and magnetic field strength without restricting throughput rates.

To ease the removal of trapped contaminants, Russell Finex has improved the design of the new magnetic separator, allowing for quick and easy cleaning between batches. Instead of being welded directly to the ends of a circular sieve frame, the magnetic bars are attached to a central support beam, leaving free space between the bar ends and the frame. This allows ferrous material to be wiped to the end of the bars, where it can be easily collected as it falls way.

Ray Singh, Managing Director, says of the new development, 'The enhanced design of the magnetic separator is an option we decided to offer as a direct result of listening to what our customers were telling us. Food and pharmaceutical companies cannot afford to accept any level of contamination, however small. This new version offers a straightforward way of removing ferrous particles which otherwise might go unnoticed in production and also makes cleaning of the magnet very easy to do.'

Constructed from 316L grade stainless steel, and available in a brush or mirror polished finish, the magnetic separator has been strenuously tested at Russell's ISO:9001 accredited facilities to ensure complete reliability.

Available as a standard ferrite model, made of material achieving 4,500 Gauss, or in more powerful rare earth options made of neodymium iron boron reaching up to 14,500 Gauss, this product is an essential tool when the risk of ferrous contamination is present.

For over 75 years, Russell Finex has manufactured and supplied filters, screeners, and separators to improve the quality, enhance productivity, safeguard worker health, and ensure powders and liquids are contamination-free. Throughout the world, Russell Finex serves a variety of industries with applications including food, pharmaceuticals, chemicals, adhesives, plastisols, paint, coatings, metal powders and ceramics.

More from Architectural & Civil Engineering Products