Position Sensors / Detectors / Transducers
Magnetic Sensor guides robotic vehicles along tape-based tracks.
Press Release Summary: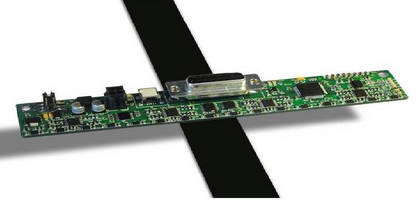 With customizable functionality offered via Basic-like scripting language, 160 mm wide MGS1600 detects and reports position of magnetic field along its horizontal axis as based on adhesive magnetic tape used to form track guide on floor. Advanced signal processing is used to measure lateral distance from center of track from heights up to 60 mm, and position resolution is 1 mm. Supplied with various ports to output position information, sensor can detect and manage up to 2-way forks.
---
Original Press Release:
Roboteq Launches Revolutionary Sensor for Guiding Robotic Vehicles Along Invisible Magnetic Tracks
Scottsdale, AZ – Roboteq, Inc (www.roboteq.com) introduces a magnetic guide sensor capable of detecting and reporting the position of a magnetic field along its horizontal axis. The sensor is intended for line following robotic applications, using adhesive magnetic tape to form a track guide on the floor.

The 160mm wide sensor uses advanced signal processing to accurately measure its lateral distance from the center of the track, from a height up to 60mm. With a position resolution of 1mm, the MGS1600 provides the highest precision in the market.

The sensor is primarily used to steer Automatic Guided Vehicles (AGVs), moving material on factory floors. However, its unique sensitivity and accuracy opens a world of new application opportunities, such as automatic shelf replenishing in supermarkets, patient transport in hospitals, stage theater props, or rail-less tramways.

Compared to other guiding techniques, magnetic guides are totally passive and therefore easy to lay and modify. The tape creates an invisible field that is immune to dirt and unaffected by lighting conditions. The magnetic track can be totally hidden under any non-ferrous flooring material, such as linoleum, tiles, or carpet.

The MGS1600 has a uniquely long list connectivity options: the tape position information can be output in numerical format on the sensor's RS232, USB, CANbus, Analog or PWM ports.

The sensor can be interfaced directly to any of Roboteq's motor controllers in order to create an effective Automatic Guided Vehicle solution with just two components. The sensor can also be connected to any PLC using a choice of Analog, PWM, RS232 or CANbus interfaces. Using USB, the sensor can easily be interfaced to any PC compatible computer.

The sensor will detect and manage up to 2-way forks and can be instructed to follow the left or right track using commands issued via its digital inputs, the Serial, USB or CANbus ports.

In addition to detecting a magnetic guide track to follow, the sensor will detect and report the presence of magnetic markers that may be positioned on the left or right side of the track. Markers are made of the same magnetic tape but of opposite polarity. The markers can be used to signal forks ahead or the presence of a charging station.

The sensor is equipped with several LEDs for easy monitoring and diagnostics. The sensor incorporates a high performance, Basic-like scripting language that allows users to add fully customized functionality to the sensor.

The sensor is delivered with a powerful PC utility for configuring its settings, and updating its firmware in the field with new features as they become available.

To help with system setup and troubleshooting, the utility also includes as a strip chart recorder, and a visualization window to display in real time, the magnetic field as it is seen by the sensor.

The MGS1600 is built onto a compact 25mm L x 160mm W x 20mm H (1" x 4.3" x 0.8") open board module. A fully enclosed, water  resistant version will be available in Q2, 2013.

The MGS1600 is available now to customers worldwide at $395 in single quantities. Product information and software can be downloaded from the company's web site at http://www.roboteq.com/sensors/mgs1600-precision-magnetic-track-following-sensor

A 2 minutes video presentation of the MGS1600 can be viewed at: http://www.youtube.com/watch?v=u_JXSAygeko

A demonstration robot built by Alliant Technologies (www.atccs.com) using the MGS1600 can be viewed at: http://youtu.be/GDOAkj1GCiQ

About Roboteq
Founded in 2001 by experts in embedded computing and power electronics, Roboteq's mission is to develop products and technologies that allow novices and professionals alike to build innovative, flexible and affordable mobile robots. Roboteq controllers are now used in over 2000 original robot designs around the world.
More from Laboratory and Research Supplies and Equipment