Magnetic Rotary Encoder resists shock, vibration, and cold.
Press Release Summary: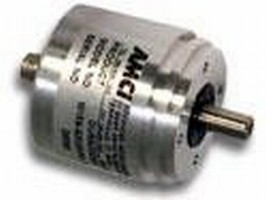 Available in SSI and analog output versions, ME15 series size 15 rotary shaft encoder has dia less than 1.5 in. and is designed for heavy-duty operation. IP67 rating protects against dust and moisture and sturdy machined housing is resistant to shock and vibration. Operating over -40 to +85°C range, encoders utilize diametrically polarized magnet and custom ASIC that contains array of Hall sensors. Series is capable of operating in areas with high external magnetic fields.
---
Original Press Release:

Size 15 Encoder Resists Shock, Vibration, and Cold.



AMCI releases a heavy-duty size 15 magnetic encoder that resists shock, vibration, and cold temperatures. Available in either SSI or Analog output versions, AMCI's ME15 series encoders are designed for budget-minded applications that require superior reliability.

Terryville, CT November, 03 2008 - AMCI (Advanced Micro Controls Inc.) has released a size 15 rotary shaft encoder capable of withstanding shock, vibration, and cold temperatures. Based on a magnetic design, AMCI's ME15 rotary shaft encoder is available in either SSI (http://www.amci.com/rotary-encoders/me15-absolute-ssi-rotary-encoder.asp) or Analog (http://www.amci.com/rotary-encoders/me15-absolute-analog-rotary-encoder.asp) output versions. Designed for cost sensitive applications that require bullet-proof reliability, the ME15 magnetic encoder measures just less than 1.5" in diameter and is engineered for heavy-duty operation across a variety of industries. The encoder's IP67 rating protects against dust and moisture, and the sensor's compact design only relies on two components, ensuring trouble free operation. Plus, AMCI's ME15 encoder boasts an operating and storage temperature range of -40°C to 85°C, capable of withstanding various environmental conditions. "AMCI's ME15 series encoder is perfectly suited for use on construction machinery, gantry cranes, filling plants, utility vehicles, and any industrial application classified as heavy-duty" explained Matt Tellier, AMCI Application Engineer.

AMCI's ME15 series encoders utilize a small diametrically polarized magnet and a custom ASIC that contains an array of Hall sensors that generate a voltage when exposed to a magnetic field. The ASIC detects the change in magnetic flux distribution as the magnet rotates above it and outputs a voltage level that represents the angular position. The ASIC also has the ability to ignore any interfering magnetic fields, allowing the ME15 to operate in areas of high external fields. "Countless hours of product research, customer feedback, and field experience are built into every encoder product we design, manufacture and sell. Our ME15 series encoder look impressive on paper, but it's in real world applications where this robust product really shines!" commented David Johnston, AMCI Sales representative.

The ME15's small size, high reliability, IP67 protection rating (http://www.amci.com/tutorials/tutorials-what-are-ip-ratings.asp) and low cost makes it an ideal replacement for potentiometers and small industrial encoders. A sturdy machined housing and a high resistance to shock and vibration make these encoders ideal fit and capable withstanding difficult environmental conditions, including electromagnetic interference (EMI) noise generated by neighboring currents.

ABOUT ADVANCED MICRO CONTROLS INC (AMCI):
AMCI is a worldwide leader in industrial control products, including the design, manufacture and marketing of PLC modules, rotary sensors, stepper control products, and network automation devices. Both internationally and in the US, its NEXUS, GENESIS, DURACODER, EASYPACK and PRESSPRO brands and products provide the highest value and most reliable performance in the world.

Learn more about AMCI's ME15 Series Encoders more info » (http://www.amci.com/rotary-encoders.asp)

For additional information on AMCI and their products or pricing, visit their web site at www.AMCI.com or contact them by phone during regular business hours at (860) 585-1254.

Media Contact: Bob Alesio

Telephone: (860) 585-1254 ext.128

Email: balesio@amci.com

Advanced Micro Controls Inc.
20 Gear Drive
Plymouth Industrial Park
Terryville , CT 06798 USA
Telephone: (860)-585-1254
Facsimile: (860) 584-1973
http://www.amci.com

More from Chemicals & Gases