Magnetic Receptive Sheets offer backdrop for magnets.
Press Release Summary: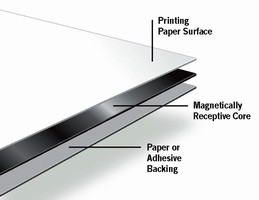 Measuring 0.025 in. thick x 24.0 in. wide, MAGBOND(TM) rubber-based ferrous sheet is supplied as 50 ft long roll. It is available with interior or outdoor adhesives, white matte vinyl coatings, or adhesive on one side and white vinyl on other side. Combining printable surface with lightweight metal, MAGSTEEL(TM) sheet is 0.10 in. thick x 36.61 in. wide and supplied in 82 ft rolls. Portable magnetic products can be incorporated into other frames, fixtures, and displays.
---
Original Press Release:

Adams Offers New MAGBOND and MAGSTEEL Magnetic Receptive Sheets for Frames, Fixtures, Displays and More



Elmhurst, Illinois -- Adams Magnetic Products Co. announces MAGBOND(TM) and MAGSTEEL(TM) magnetic receptive materials. Part of Adams' new line of "MAG" branded flexible magnetic products, MAGBOND and MAGSTEEL offer a convenient backdrop for magnets that is portable, durable, simply installed and easily incorporated into other frames, fixtures and displays.

MAGBOND is a rubber-based ferrous sheet is 0.025-inches thick by 24.0-inches wide and supplied as 50-foot long rolls. This magnetic receptive product is available with interior or outdoor adhesives, with white matte vinyl coatings, or with adhesive on one side and white vinyl on the other.

MAGSTEEL combines a printable surface with a lightweight metal, creating a magnetically receptive sheet. Rolls of 0.10-inches thick by 36.61-inches wide material are supplied in 82-foot lengths. Sheets are ordered in 0.025-inch thickness by 31.5-inch widths and up to 43.3-inches in length. Choose from white printable surface on both sides, or with the printable surface on one side and adhesive on the other.

Established in 1950, Adams Magnetic Products Co. sets the standard for designing and manufacturing innovative magnetic products and assemblies. One of the oldest U.S. companies in the industry, its staff draws from a depth of engineering, fabricating, coating, testing, sourcing, handling, and distributing expertise managing inventory and delivery to coincide with customers' production cycles and schedules. Adams stocks a large variety and quantity of the most popular magnetic products and has the capabilities to produce magnets of virtually any shape and size.

To learn more, please visit www.adamsmagnetic.com, or call 800-747-7543.

Adams Magnetic Products Co. Corporate Office: 888 Larch Avenue, Elmhurst, IL 60126