Motion Sensors / Detectors / Transducers
Magnetic Pickup Speed Sensors do not require gapping.
Press Release Summary: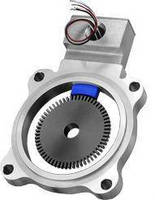 In addition to slim motor mount flanges, NRK ring kits feature 60-tooth ferrous sensing gears and drop-in magnetic pickup (variable reluctance) sensors. Products are available to fit 56C through 256TC NEMA C-face motors and also offer 30-tooth sensing gear option. Additional sizes, gear tooth configurations, and sensor cables may be available upon request. Magnetic pickup ring kits are rated to sense speed of rotating motor shafts from 2,000-10 rpm.
---
Original Press Release:

Magnetic Pickup Speed Sensor Solves Installation Problems



NRK motor mounted ring kits do not require gapping

Maple Grove, MN USA

The new NRK ring kits from Contrex feature slim motor mount flanges, precision 60 tooth ferrous sensing gears, and drop-in magnetic pickup (variable reluctance) sensors that do not require gapping. "The NRK ring kit has been designed as a system to overcome installation issues encountered with typical speed sensors which often require access to the machine and cumbersome set screws" said Jim Sturgis, Vice President, Contrex. "The design was based on our popular QRK quadrature encoder ring kits which utilize a similar sensor housing and flange."

The ring kits are available to fit 56C through 256TC NEMA "C-face" motors, and have 60 tooth or 30 tooth sensing gear options. Additional sizes, gear tooth configurations, and sensor cables may be available upon request. The NRK magnetic pickup ring kits are rated to sense the speed of a rotating motor shaft from 2000 RPM down to 10 RPM with an operating temperature range of -40C to 125C.

Contrex is a Minnesota based corporation that manufactures and supports precision motion control products. For over 39 years Contrex has been delivering easy-to-use alternatives to traditional motion control platforms. To discuss your motion control project you may contact 800-342-4411 or visit their website at www.contrexinc.com.

For more information on Microsoft Office:
http://www.contrexinc.com

More from Fasteners & Hardware