Cleaning Compounds and Chemicals
Magnetic, Metal Detectable, Screen Cleaning Poly Balls & Cubes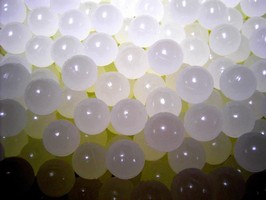 Sifter Parts and Service, Inc is starting the New Year by stocking assorted sizes of cleaning balls and cubes made of polyurethane with a carbon steel core. These cleaners help prevent blinding, or clogging, of vibrating screens.

Polyurethane is extremely chemical resistant, non-porous and durable. Steel cores make it simple to detect whether cleaner is contaminating your product, with a magnet or metal detector.

Sifters Parts and Service stocks a range of sizes including 5/8" and ½". The correct size and type will depend on your product and screen. Sometimes a combination of cleaners will provide the best result. Ask us for help choosing the best cleaner for you.

Proper cleaning saves money by ensuring your on-size product doesn't get sent out with the tailings, and by increasing screen life. Be sure to inspect balls and cubes annually for wear to get the maximum benefit.

More from Health, Medical, & Dental Supplies and Equipment