Magnetic Mat organizes tools and fasteners.
Press Release Summary: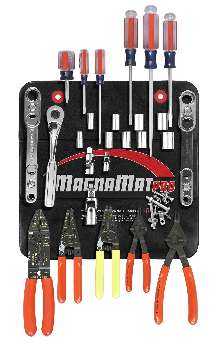 Flexible, non-conductive, PVC MagnaMatPro(TM) measures 12 in. sq x 3/16 in. thick. Neodymium iron-boron magnets hold up to 20 lb of metal tools, fasteners, and other ferrous objects. Mat also serves as magnetic sweep to retrieve objects such as nails, nuts, bolts, and washers that fall onto ground or out of reach. MagnaMatPro adheres to any iron or steel surface, flat or curved, coated or uncoated. It is non-abrasive, chemical-resistant, and easily cleaned.
---
Original Press Release:

MagnaMatPro(TM) Magnetic Work and Storage Mat is Bigger, Stronger Than Conventional Magnetic Products


ELLICOTTVILLE, NY (April 30, 2003) - An innovative, new product produced by Stride Tool eclipses existing magnetic work and storage products through its usefulness, versatility and holding strength. Stride Tool's MagnaMatPro(TM) is a flexible, non-conductive, 12-inch square by 3/16-inch thick, PVC mat capable of holding up to 20 pounds of metal tools, fasteners and other ferrous objects.

As much as two-times larger than some conventional magnetic pans, the MagnaMatPro allows automotive service professionals, HVAC technicians, industrial users, DIY'ers and hobbyists to organize and keep tools, fasteners and other ferrous parts within reach while at work on projects. It also serves as a magnetic sweep to retrieve objects such as nails, nuts, bolts and washers that fall onto the ground or out of reach. Its exceptional holding power is derived from embedded super-strength Neodymium Iron-Boron magnets.

The MagnaMatPro will adhere to any iron or steel surface - flat or curved, coated or uncoated - including hoods, fenders, engine blocks, axles, oil pans, piping, conduit, toolboxes, tool chests, ladders, metal doors, file cabinets, lift racks, scaffolding, and appliances such as refrigerators. In the absence of metallic surfaces, MagnaMatPro features grommets for hanging the mat wherever it's needed - on the job or out of the way on a pegboard or a nail for the storage of tools and parts.

Non-abrasive, chemical-resistant and easily cleaned, the MagnaMatPro can be used to hold dirty, oily parts in service and manufacturing settings. It safely keeps tools, screws, nuts, washers and other ferrous fasteners close-at-hand for work around electrical outlets and automotive electrical components because it's non-conductive. The MagnaMatPro's PVC construction makes it a better magnetic solution for work on or around easily scratched painted surfaces.

The MagnaMatPro's versatility as a work aid is equaled only by its versatility as a storage solution. It maximizes storage space when affixed to the outside or inside lid of tool chests or boxes. It can be folded or cut into smaller pieces to fit a variety of work or storage requirements, including inside tool chest and toolbox drawers to keep tools from sliding around. The MagnaMatPro keeps fasteners all in one place for anyone working around the job site, up on ladders, or anywhere it's advantageous to corral tools and small ferrous parts.

Headquartered in Ellicottville, NY, Stride Tool Inc. designs, manufactures and markets professional and DIY hand tools for a global customer base. Its brands, including the company's 98-year-old flagship brand, Imperial, are sold through retail, industrial, and automotive distribution. The privately held company operates production facilities in Illinois, New York and Ohio. More information is available at www.stridetool.com.

More from Fluid & Gas Flow Equipment