Magnetic Inductor, Reactor enhance solar application efficiency.
Press Release Summary: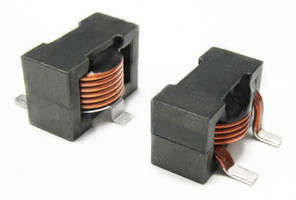 DC-DC High Frequency Switching Inductor and custom High Current DC-AC Line Reactors are designed to enhance efficiency in micro-inverter and central-inverter solar applications, respectively. Bow-tie-shaped, 3-pad inductors feature high-density construction with flat-wire, edge-wound copper coil and offer 15-100 Adc saturation current and 0.3-4.7 µH inductance. Depending on requirements, 10-1,500 kVA-rated reactors with aluminum or copper windings support current levels to 2,500 A.
---
Original Press Release:
Innovative New Magnetic Technologies from Precision Enhance Efficiency of Micro-Inverter and Central Inverter Solar Applications
MINNEAPOLIS, MN - Precision, Inc (www.precision-inc.com) announces the global launch of two new magnetic technologies designed to enhance efficiency in micro-inverter and central-inverter solar applications. DC-DC High-Frequency Switching Inductor Precision's expanded line of DC-DC High Frequency Switching Inductors provides low core loss and high-efficiency performance in point-of-power conversions for micro-inverters on solar panels. The technology´s high-density construction features an innovative flat-wire, edge-wound copper coil that generates significant efficiency gains and space savings compared to alternative round wire e-core or toroid technologies. The high-density inductor construction maximizes form requirements and generates up to 33% real estate savings compared to round-wire alternatives. This high-density construction reduces power losses up to 25% compared to alternative round-wire technologies due to the reduced resistance. The bow-tie shaped, three-pad inductors also feature closed magnetic construction for optimal performance. Available in a variety of standard and customized formats, the High Frequency Switching Inductors can be used as a standard part drop-in replacement or as part of a custom technology solution. For custom and semi-custom applications, complimentary design engineering support is provided for small, mid and high volume orders. The RoHS compliant and halogen-free High-Frequency Switching Inductor comes in standard sizes that range from 8.64mm to 13.97mm. The inductors offer saturation current (ADC) from 15 to 100, while inductance ranges from 0.3 to 4.7 µHy. The saturation current indicates the value of DC current, where the inductance is approximately 30% lower than the initial value. DC-AC Line Reactor Precision´s custom High Current DC-AC Line Reactors feature a high-efficiency design that can increase overall performance efficiency in central-inverter applications by at least 0.5%, generating up to $100,000 for utility level projects. Depending upon customers' requirements, Precision produces its high-efficiency/high-current DC-AC Line Reactors with either aluminum or copper windings. Precision's engineers evaluate key elements such as weight, size and environmental factors to select the ideal material for each unique application. In some cases, Precision's designs have resulted in up to a 20% reduction in overall weight for the line reactor. "Precision has unmatched design and manufacturing expertise in the production of DC-AC Line Reactors," explained Brett Jelkin, Account Manager at Precision. "Our broad and deep knowledge base allows Precision's engineers to configure Line Reactor components to reduce overall reactor losses due to resistance, eddy current, thermal losses and harmonics losses. This allows Precision to create a total solution with a size, weight and cost breakdown that is ideally suited to a customer´s specific needs." Precision´s unique offering includes on-shore and off-shore manufacturing capabilities and state-of-the-art design software that makes it possible to optimize all performance parameters for each unique application. Precision design engineers have industry-leading experience in the broadest array of line reactor configurations including forced-air and liquid cooling techniques, standard winding and coil duct configurations, and a variety of mounting configurations ensuring high-efficiency performance. The RoHS compliant DC-AC Line Reactors come in power levers ranging from 10kVA through 1,500kVA. Current levels range up to 2,500 amps while voltages range from 120 to 5,000 volts. The line reactors are UL recognized for 130, 155, 180 and 200°C insulations systems. Precision Contact Information For additional information or engineering assistance: Precision's Sales Department, Address: 1700 Freeway Blvd., Minneapolis, MN, 55430. Phone: 763-561-6880. FAX: 763-561-9050. E-mail: [email protected] Web: www.precision-inc.com. About Precision, Inc Precision, Inc is an industry-leading designer and manufacturer of custom and standard magnetic components and assemblies. The Minneapolis-based company has over 40 years of design experience and specializes in the creation of innovative and sophisticated solutions for solving customer magnetic technology needs. Precision, Inc uses cutting-edge materials and state-of-the-art design technology to deliver products across a broad range of industries including renewable energy, medical device, aerospace/aviation/automotive, electronics, food processing, instrumentation, industrial control, telecommunications and HVAC applications.