Magnetic Drilling Units are designed for heavy-duty applications.
Press Release Summary: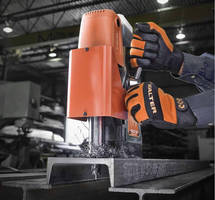 Equipped with ACCUDRILL pressure indicator and material and thickness detector, ICECUT 100 (850 W, 600 rpm) and ICECUT 200 (300 and 600 rpm) promote safe and reliable use. ACCUDRILL safety amp meter in central control panel lets users optimize drilling operation productivity while preventing motor from overloading/overheating. Also included, material and thickness detector will not let drill start when magnetic holding power is insufficient to secure unit to work piece and operate safely.
---
Original Press Release:

Walter Surface Technologies Unveils a Completely Redesigned Line of Magnetic Drilling Units



Montreal, QC – Walter Surface Technologies, the global industry leader in surface treatment technologies, announces the introduction of the newly redesigned ICECUT 100 and ICECUT 200 magnetic drills. Underscoring Walter's commitment to developing the industry's most efficient products, the ICECUT provides unrivalled safety and reliability as it leverages state-of-the-art technologies, including the addition of the ACCUDRILL pressure indicator and material and thickness detector.



Redesigned for heavy duty applications, the ACCUDRILL safety amp meter, conveniently located in the central control panel, allows users to achieve the most productive drilling operation and prevents the motor from overloading and overheating. In addition, the ICECUT also includes a material and thickness detector. This device will not allow the drill to start when the magnetic holding power is insufficient to secure the unit to the work piece and operate safely.



"In recent years, the market has been shifting towards lightweight magnetic drills" explains Stephane Drainville, Product Manager for Walter. "The ICECUT 100 and 200 magnetic drills are the most versatile units available today. They provide the safest way to drill large holes, regardless of user experience. This results in a lower production and labor costs."



ICECUT 100:  the most compact portable unit on the market today

Designed for off-site drilling, the ICECUT 100 weights 22lbs and is the only lightweight, mobile system that can provide both maximum cutting efficiency and safety with 850 Watts of power and 600RPM's.



ICECUT 200: the versatile and powerful 2 speed unit

The ICECUT 200 provides unparalleled performance when compared to other magnetic drilling units.  Engineered for heavy duty applications, it weights 27lbs and operates at 300RPM's and 600RPM's, allowing users to cut smaller and larger holes with precision.

To ensure the fastest drilling time and maximum life of the core cutters, ICECUT magnetic drill units are ideally paired with Walters's new line of annular cutters and the ICECUT cutting lubricants. "Operators now have the perfect drilling technology and solution in hand, with the most competitively priced unit on the market today" concludes Drainville.



The ICECUT 100 and 200 are available now.



About Walter Surface Technologies

Walter Surface Technologies provides innovative solutions for the global metal working industry. From high performance abrasives, power tools and tooling to industrial parts washing systems, cleaners, degreasers and lubricants Walter focuses on helping its customers work better. Founded in 1952, the company is established in 9 countries throughout North America, South America and Europe. International headquarters is in Montreal and US headquarters is located in Windsor, Connecticut. Key certification and awards include ISO 9001: 2008, Wall Street Journal Award; Deutscher Material Preiz; American Eagle Award; CleanTech Cleaning Technology Award.



Web  www.walter.com

Twitter  @waltersurftech

Facebook  Walter

LinkedIn walter-surface-technologies

YouTube TheWalterNetwork



Press Contact

Walter Surface Technologies

Vanessa Angell

Content Marketing Specialist

vangell@walter.com

More from Welding Equipment & Supplies