Magnetic-Bearing Chillers provide 1,000 tons of cooling.
Press Release Summary: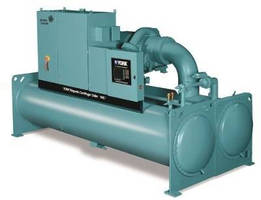 Ranging from 580–3,500 kW, YORK YMC² Centrifugal Chillers utilize magnetic levitation technology in driveline to spin without friction, minimizing sound levels as low as 70 dBA for quiet operation. Units also have standard variable speed drive to maximize efficiency. Utilizing low entering condenser water temperatures, chillers are capable of achieving values below 0.1 kW/ton at  part load. Oil-free design delivers reliable operation and low maintenance.
---
Original Press Release:

Johnson Controls Sets a New Standard in Chiller Technology, Expands Successful Magnetic-bearing Chiller Offering



YORK YMC2 chillers exemplify commitment to product innovation, providing solutions for a diverse customer base



MILWAUKEE,  -- Johnson Controls enhances its portfolio of commercial and residential HVAC/R products with the expansion to 1,000 tons of cooling (3,500 kW) for its successful magnetic-bearing centrifugal chiller line, the YORK YMC(2). The larger cooling capacity units address the need for reduced sound, high efficiency and low maintenance while advancing the future of chillers through magnetic bearing and oil free technology.



The chiller uses magnetic levitation technology in its driveline to spin without friction, offering a quieter, more efficient operation. The YMC(2) also has a standard variable speed drive to further increase the efficiency of the chiller.



--  Sound levels as low as 70 dBA for quiet operation, the same sound level as a vacuum cleaner.

--  YORK chillers are known for utilizing industry-leading low entering condenser water temperature to reduce energy usage. The YMC(2) chiller is capable of achieving values below 0.1 kW/ton at part load, resulting in a significantly lower utility bill.

--  The oil-free design delivers reliable operation and low maintenance, providing a lower total cost of ownership over the life of the chiller.



"The YMC(2) chiller is an example of Johnson Controls' ability to develop innovative solutions to solve our customers' challenges," said Laura Wand, vice president of global chillers, Johnson Controls Building Efficiency Business. "In addition to the YMC(2 )chiller, our new offerings include a lower-cost air-cooled chiller and smart, connected chiller technology that supports optimized uptime. We have the industry's best and most extensive product portfolio, and we intend to build on it to enhance our offerings to a diverse customer base around the world."



The complete YMC(2 )line now offers units from 165 - 1,000 tons (580 kW to 3,500 kW). To learn more, please visit www.johnsoncontrols.com/ymc2, view www.youtube.com/watch?v=hGr9tzIjnyA or see it in person at the 2016 AHR Expo, the world's largest HVACR marketplace, in Orlando, Fla. from Jan. 25 to 27. The YMC(2) line and other industry-leading products from Johnson Controls Building Efficiency will be exhibited at booth #1231.



About Johnson Controls

Johnson Controls is a global diversified technology and industrial leader serving customers in more than 150 countries. Our 130,000 employees create quality products, services and solutions to optimize energy and operational efficiencies of buildings; lead-acid automotive batteries and advanced batteries for hybrid and electric vehicles; and seating components and systems for automobiles. Our commitment to sustainability dates back to our roots in 1885, with the invention of the first electric room thermostat. Through our growth strategies and by increasing market share we are committed to delivering value to shareholders and making our customers successful. In 2015, Corporate Responsibility Magazine recognized Johnson Controls as the #14 company in its annual "100 Best Corporate Citizens" list. For additional information, please visit http://www.johnsoncontrols.com or follow us @johnsoncontrols on Twitter.



CONTACT: 

Kari Pfisterer

Senior Global Public Relations Manager

Building Efficiency, Johnson Controls

Work + 1 414 524 4017

Mobile + 1 414 305 1863

Kari.B.Pfisterer@jci.com

More from Fasteners & Hardware