Magnetic Absolute Rotary Encoders are precise, rugged, compact.
Press Release Summary: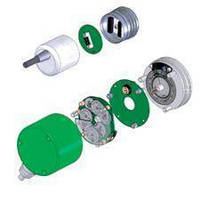 Intended for use in ambient conditions that prove challenging for mechanical systems, ENA58IL and ENA36IL are based on noncontact, magnetic detection principle; use 2-axis Hall sensor; and have no mechanical gearing. Inclusion of Wiegand sensor turns these single-turn absolute rotary encoders into multiturn absolute rotary encoders. Along with accuracies up to 0.1°, encoders offer resolution up to 16 bit (single turn) and 32 bit (multiturn) and signal processing time of <100 µsec.
---
Original Press Release:

New Magnetic Absolute Rotary Encoders from Pepperl+Fuchs Loaded with Value-added Features for Machine Design and Plant Automation Applications



Extremely precise, rugged and compact, this revolutionary technology ensures greater process reliability and efficiency in all industrial environments



TWINSBURG, OH — Pepperl+Fuchs introduces ENA58IL and ENA36IL magnetic absolute rotary encoders. These next-generation encoders combine precision and high-speed resolution in a compact design. They are packed with features and options that maximize process reliability, efficiency and service life ideal for a wide range of OEM and plant automation applications.



"Positioning tasks in high-speed machine applications require a high degree of accuracy, resolution, and durability, and rotary encoders are key in these applications, guaranteeing reliable production processes," says Robert Pasho, Product Line Manager. "Increasingly challenging installation conditions, the trend for smaller housing designs, and growing demands on process reliability are shifting the focus to encoders that are compact and extremely durable, and offer a longer service life with reduced maintenance. Pepperl+Fuchs new generation of magnetic rotary encoders, ENA58IL and ENA36IL, are engineered to satisfy these changing requirements by offering extremely precise technology in a rugged, compact housing."



Redefining Boundaries

Typically, applications with more stringent requirements in terms of accuracy and high-speed resolution use optical rotary encoders. However, tough ambient conditions such as dirt, vibrations, or extreme temperatures present major challenges for this technology.



By combining the high precision and resolution of optical rotary encoders with the extremely durable, compact design of magnetic rotary encoders, Pepperl+Fuchs redefines the boundaries of magnetic encoder technology. Boasting accuracies up to 0.1°, resolution up to 16 bit single turn and 32 bit multiturn, and a signal processing time < 100 µs, these ENA58IL and ENA36IL encoders are taking flexibility and performance to new heights.



Sophisticated Magnetic Field Technology

Developed specifically for use in ambient conditions that pose challenges for mechanical systems, these encoders demonstrate their performance in the most adverse application environments such as offshore wind turbines or in the mobile equipment industry. The key advantage of magnetic rotary encoder technology is its noncontact detection principle, which eliminates the need for glass disks used in pulse generation. Magnetic rotary encoders have no mechanical gearing, so there's no unpredictable wear therefore they are unaffected by environmental influences.



Uniquely Compact

Pepperl+Fuchs absolute rotary encoders are based on a magnetic detection principle and use a two-axis Hall sensor, which measures changes in the magnetic field allowing the angular measurement to be generated by the encoder electronics. In addition to the Hall sensor, Pepperl+Fuchs added a Wiegand sensor, turning these single-turn absolute rotary encoders into multiturn absolute rotary encoders. When a permanent magnetic field near the Wiegand sensor is rotated, it generates a change in the direction of the magnetic field in the core of the Wiegand sensor, and in turn, creates an induction voltage in the coil around the sensor. In this way energy is transformed and used to supply power to the electronics to enable counting of the shaft revolutions. This eliminates the need for an internal battery to supply power to the electronics and means that the rotary encoders will not lose full-turn rotational data when power is removed. Therefore, accurate position values are available after power is reapplied.



In addition to high reliability and a long service life, this Wiegand multiturn sensing technology enables more compact designs compared to conventional technology. The integrated Wiegand sensor can replace the multiturn mechanical gears, saving space and creating a unique, compact multiturn magnetic rotary encoder with housings as small as 36 millimeters in diameter.



Maximum Performance

This new generation of encoders provides state-of-the-art 14-bit Hall sensors, optimized magnet technology, and special software modifications that permit accuracies of up to 0.1° with single turn resolutions up to 16 bit and multiturn resolutions up to 16 bit.



With the addition of this new family of magnetic absolute rotary encoders Pepperl+Fuchs can now offer magnetic encoders with accuracies of 1° to 0.1°, providing solutions that deliver new capabilities for general machine engineering scenarios and plant automation. Optimized precision and performance keep processes moving, improving production reliability even in difficult industrial environments. What's more, these rotary encoders ensure improved performance when matched to the application in question because the sophisticated magnetic technology virtually eliminates maintenance and service costs and prolongs the encoder's service life even in dusty, dirty environments and at extreme temperatures. For applications where mounting restrictions and environmental conditions play a role, the compact, robust sensors from Pepperl+Fuchs offer the ideal solution for a wide range of applications regardless of the market sector.



Pepperl+Fuchs is a world leader in the design, manufacture and application of high quality factory and process automation products and services. Pepperl+Fuchs pioneered the development of proximity sensors 50 years ago, and has set the standard for innovation and quality ever since.



Pepperl+Fuchs

1600 Enterprise Parkway

Twinsburg, OH 44087

(330) 486-0001

fax: (330) 405-4710

fa-info@us.pepperl-fuchs.com

www.pepperl-fuchs.us





More from Computer Hardware & Peripherals