Magna Visual Inc's Custom Magnetic Dry- Erase Boards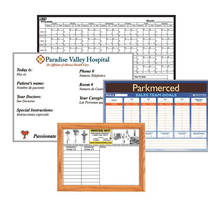 Magna Visual, Inc can customize a magnetic dry - erase board for your specific business needs. Because of a unique printing process that allows the inks to be fused into the surface of the board, magnetic dry-erase boards can be printed in single colors or 4 color process. This printing process makes it possible to produce a single board or multiple boards. If you can design it, we can produce it.

Custom Dry Erase Board Features:

o Custom sizes available up to 48" x 96"

o Use with dry-erase or water soluble markers

o Use with Magna Visual's wide variety of magnetic accessories

o Free custom design service available

All boards come with Satin aluminum frames. We also offer a wide variety of aluminum frames or custom wooden frames to match your office décor.

Call Magna Visual's Customer Service Department today at 800-843-3399 for additional information or visit our website at www.magnavisual.com Magna Visual can provide you with the custom board you are looking for.

Related