MadgeTech, Inc. Enhances the RFOT Data Logger With a New Rugged Probe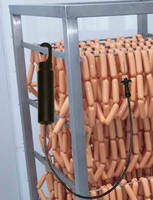 The RFOT is a wireless meat temperature data logger. The product has recently been enhanced with a new rugged probe that features a 3/16" straight diameter. The new probe design increases the products' strength and durability, making it able to withstand harsher handling.

The RFOT is specifically designed for use in the cooking, cooling and storing of meat products. The device measures, records and wirelessly transmits internal product temperature readings back to a central computer for instant real-time monitoring. The RFOT never needs to be connected to a computer as it has been designed for two way wireless communication. Full communication can be performed directly from a central PC. In addition to wirelessly transmitting data, the RFOT also stores each reading to internal memory for backup.

The RFOT can be used in smoke houses, ovens and other cooking processes up to 212°F (100°C) as well as refrigerators and freezers down to -4°F (-20°C). The device is equipped with a water-tight enclosure, making it easy to clean, and allowing the data logger to withstand wash down cycles.

MadgeTech's easy to use software features user programmable critical control points, called "cooling flags" to assist in compliance with USDA Appendix B. The "cooling flags" are automatically annotated on the graph and tabular data views. The summary tab provides the cool down duration between each critical control point. The data can also be automatically exported to Excel® for further calculations.

The RFOT is priced at $499.00. For more information on MadgeTech and its products, visit www.madgetech.com or contact info@madgetech.com.


More from HVAC