Macron Dynamics Issued Patent for CLAWS System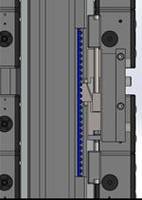 Macron Dynamics was recently issued a patent for their CLAWS System, increasing safety and reliability of their line of linear actuators.
Croydon, Pennsylvania, February 27, 2018 - Macron Dynamics, a company that manufactures linear and mechanical motion components and systems and provides automation solutions to companies around the world, has been awarded a patent for CLAWS - their proprietary cam lock arresting wedge system™ that will slow and stop a free-falling cart and load.
While Macron actuators are constructed from durable materials, there is always the unavoidable potential risk of a belt failure due to a variety of conditions; mis-use, overloading, shock loading, crashes, jams, over torque from drive system, contamination, etc. The CLAWS system provides the reassurance that in the case of a belt failing, there will be no dangerous free fall.
"Removing the hesitation our customers might have about using actuators in a vertical application was the main goal behind the CLAWS system." says Craig Marshall, COO, Executive Vice President, and Chief Marketing Officer at Macron Dynamics. "This patent is exclusive to Macron products and is not available under any other manufacturer."
CLAWS is an arresting system used in vertical reciprocating lift type applications to stop the freefall of a load in cases of belt break. The CLAWS mechanism connects to the belt tension assembly. The CLAWS belt is inserted into the t-slot under the tension assembly of any Macron MacSTANDARD actuators or gantry system. In the case of belt failure, the CLAWS system's teeth are driven into the special belt and the device will slow and stop the cart's vertical downward travel.
CLAWS system reduces the risk and danger of a load being damaged, acting as an arresting device that will stop and cushion the load carried by the actuator preventing catastrophic free fall if the belt breaks.
CLAWS units may be ordered pre-installed on a variety of Macron MacSTANDARD actuators or gantry systems or as a retrofit kit for MSA-14x actuators used in a vertical orientation. The system consists of a patented CLAWS mechanism and special CLAWS belt.
Learn more about Macron's full product line http://www.macrondynamics.com/products or contact one of our solutions engineers to learn more about how to integrate this device into your application.
About Macron Dynamics:
Macron Dynamics is a manufacturer of linear and mechanical motion components and systems, provides automation solutions for applications found throughout the U.S and around the globe. For over 25 years, Macron has made products built with the highest quality materials, assembled in the United States and engineered to withstand rigorous daily use. Headquartered near Philadelphia, Pennsylvania, Macron linear robotics are sold domestically and internationally through a select group of certified high-tech distributors and system integrators.
More from Chemicals & Gases