Machining Vise evenly distributes clamping force.
Press Release Summary: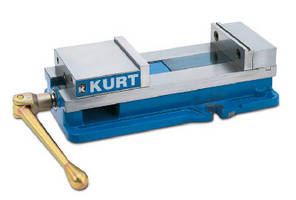 Designed to replace Model D675, Anglock® D688 features 8.8 in. jaw opening and repeatability to within 0.001 in. Unit produces up to 7,968 lb of clamping force with 80 lb-ft input torque. Designed with high-precision roller bearings, alloy steel screw mechanism, and porosity-free 80,000 psi ductile iron body, vise is suited for boring, tapping, drilling, and finishing. Other features include removable, hardened jaw plates and GrooveLock® workstops that store in vise body.
---
Original Press Release:

Kurt Announces Major Change to the Anglock® Vise Product Line In Response to New Manufacturing Needs - Kurt's D688 Model Replaces the D675 Model



Minneapolis, Minnesota: Kurt announces re-introduction of its flagship D688 vise model
with more features than any other vise in its class. Having proven itself in the marketplace as the new machining vise standard, the D688 replaces the D675 model.

"The D688 with many upgraded features replaces the D675 model, which has served
machinists well during its era," reports Steve Kane, global sales and marketing manager for Kurt Industrial Products. "The D688 is designed for the high performance requirements of the latest machining centers. It meets the needs of today's highly skilled and demanding machinists. It does this by providing more clamping force, and larger part holding capacity with many other upgraded features. The D688 is also being offered at an 8 percent price reduction."

The D688 has the same footprint as the D675 (distance of keyway to stationary jaw is
identical) so the two vises can be aligned on a vise table without problems. This allows machinists to phase in the new vise technology without making their existing vises obsolete.

The D688 features an 8.8 inch jaw opening and repeatability to within 0.001 inch. It
produces up to 7,968 lbs. clamping force with just 80 ft. lbs. input torque. This is a 25 percent increase in jaw capacity and a 36 percent greater clamping torque than the D675 and similar competitor vises.

Designed with high precision roller bearings and alloy steel screw mechanism (competitor models use less efficient ball bearings), D688 vises distribute clamping force evenly and precisely across the full jaw surface. The Anglock® design in the moveable jaw (patented by Kurt) further reduces jaw lift. Providing overall vise rigidity while absorbing machining vibration, Kurt D688 vises have porosity-free, 80,000-PSI ductile iron bodies.

Additional features include removable, hardened jaw plates, ergonomically designed vise
handle, and GrooveLock® workstops that store easily in the vise body. The D688 vise is designed for use on the latest machine tools including machining centers and knee-type mills. The D688 is ideal for all types of machining operations including precision boring, tapping, drilling and finishing with high accuracy on most part configurations.
Like all Kurt vise products, the D688 is backed by Kurt's exclusive Lifetime Ironclad Warranty.

A NEW 72-page catalog contains complete information on the D688 and all of Kurt's
latest workholding products and accessories for precision workholding. For a FREE copy, call in USA and Canada, 1-877-226-7823. Outside USA and Canada, call 1-763-574-8309, or download the brochure from the Kurt website: www.kurtworkholding.com Email:
workholding@kurt.com

Or write to Kurt Manufacturing Company, Industrial Products Division, 9445 East River
Road NW, Minneapolis, Minnesota 55433. In USA, Fax 1-877-226-7828. Outside USA, Fax
1-763-574-8313.

More from Agricultural & Farming Products