Machining Towers align parts accurately.
Press Release Summary: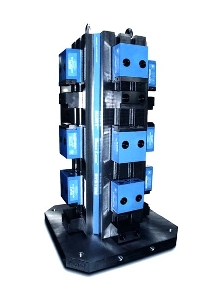 SeraLock(TM) Towers have 8 or more clamping stations with serrated mounting surfaces, suitable for small and mid-size horizontal and vertical machining centers. Serrations on mating surfaces are machined so that exact match is created between surfaces, and no special equipment or skill is required to align clamping components. Spacing or pitch of serrations allows use of variety of short stroke clamping elements such as modular vises.
---
Original Press Release:
Kurt SeraLock(TM) Towers Equipped With SeraLock(TM) Mounting Feature Align Parts Quickly And Accurately

Minneapolis, Minnesota: Kurt SeraLock(TM) Towers, equipped with the new SeraLock(TM) serrated mounting surfaces, deliver high repeatability. These SeraLock Towers have eight or more clamping stations and are ideal for small and mid-size horizontal and vertical machining centers.

Designed specifically for high density machining setups, the SeraLock equipped Towers are fast and easy to setup because of their design. The serrations on the mating surfaces are precisely machined so that an exact match is created between the surfaces. No special equipment or skill is required to align the clamping components.

When the opposing serrations come together, they interlock, forming a rigid, level, and exactly repeatable interface. Matching the serrations automatically aligns the surfaces, making subsequent reclampings highly repeatable.

The spacing or pitch of the serrations allows the use of a variety of economical, short stroke clamping elements. The movable and stationary components of the clamp can be located relative to one another on the sub-plate so that the needed stroke of the movable component need be little more than the pitch of the serration. In the SeraLock system, a 16-pitch (16 serrations per inch) pattern is utilized.

Part clamping in the SeraLock Tower pictured is performed by the MoveLock(TM) module. These are simple, modular vises that provide independent mounting of stationary and movable elements in the setup. The intermediate modules, or the combination spacer/lockdown devices that are positioned between each of the workholding stations, have the dual function of aligning, holding and locking down the parts to be machined. These devices also embody Kurt's exclusive Anglock design, which eliminates any tendency for workpieces to lift when clamped.

Because of the versatility inherent in the system, setups ranging from extremely high-density loads of small parts to single-station configurations for large workpieces can be accommodated on the same workholding surface. Smaller, modular vises are also available.

Kurt(R), AngLock(R), ArmLock(R), DoubleLock(R) are registered trademarks of Kurt Manufacturing. One Stop Workholding, Versatile Lock, ClusterLock, PowerLock, MiniLock, MoveLock, InnerLock, EZLock, Groove Lock, ClusterTower, CarvLock, SeraLock, Noodle Jaw, D688, DU68, DLU4, DLU6, DL430, DL640, CT430, CT640, CTU4, CTU6 are trademarks of Kurt Manufacturing

More from Test & Measurement