Machining Centers provide high-speed metal removal.
Press Release Summary: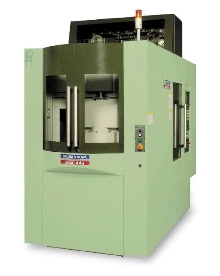 Millac 44V and 44H Vertical and Horizontal Machining Centers feature flame-hardened box ways, 10-tool magazine, and spindle speed of 12,000 rpm. Millac 44V offers X, Y, Z travels of 22.05, 16.14, and 16.14 in., respectively, while Series 44H features X, Y, Z travels of 16.14, 18.11, and 18.50 in. Suited for large complex part production, Model VTM-80YB provides vertical turning and milling in 5 axes with X, Y, Z travels of 44.0, ±13.98, and 44.69 in.
---
Original Press Release:

Okuma & Howa to Demonstrate Horizontal and Vertical Machining and Vertical Turning at Eastec 2005


The O&H Millac 44V Vertical Machining Center, recently introduced at IMTS, and its newly announced counterpart - the Millac 44H Horizontal Machining Center - will be demonstrated at Booth #1102 at Eastec. O&H's advanced capabilities in vertical turning will be exemplified with the VTM-80YB - offering vertical turning and milling in 5 axes.

O&H Series 44 - Speed and Strength
The hallmark of the new Series 44 is speed. High-speed metal removal is complemented by exceptional rapid traverse rates that deliver high production in both a stand alone or cell environment.

Both the vertical and horizontal models feature rugged column design and flame-hardened box ways to reduce vibration and enhance machine life. Ideal for moldmaking and tool & die applications, the Millac 44V features X, Y and Z axis travels of 560mm (22.05in), 410mm (16.14in) and 410mm (16.14in), respectively. Standard spindle speed is 12,000 rpm (15,000 optional). A high speed silent ball screw with center cooling and an advanced highbred lubrication system deliver rapid traverse of 36,000mm/min. (1,417 ipm) and cutting speed is an exceptional 20,000mm/min. (787 ipm).

The Millac Series 44H delivers horizontal capability in a similar size range. Ideal for the rapid production of small parts in materials ranging from non-ferrous to "hard machining" super alloys, the Series 44H features X-axis travel of 410mm (16.14in), Y-axis of 460mm (18.11in) and Z-axis of 470mm (18.50in). Spindle speed is 12,000 rpm standard (20,000 optional).

Both machines come with a standard 10-tool magazine extendable to an optional 24 tools. Additional options include: automatic pallet changer, through the tool coolant, lift-up type chip conveyor, and tool breakage detecting. Special packages available for ultra-high speed machining.

VTM-80YB - Vertical Turning and Milling in 5 Axes
Designed for large complex part production, the VTM-80YB offers X, Y and Z axis travel of 1120mm (44.0in), ±355mm (±13.98in) and 1135mm (44.69in), respectively. The pivoting spindle B-axis combined with the rotating C-axis, can accomplish indexing 5-axis machining for complex parts and offer reduced set-up time and single chucking simplicity, thereby eliminating set-up time in conventional applications. An 18.5/15kW tool spindle drive and a 30/22kW work spindle provide power for hard machining operation in new alloys or exotic materials. A 36-tool magazine is standard. Designed with highly rigid box ways and a high precision table clamping system, the VTM-80YB provides unique advantages in the manufacture of large complex aircraft and automotive parts.

Mark Davis, O&H Product Manager, states, "With the Series 44V & H, Okuma & Howa has engineered high-speed machining capability in a compact, affordable package that offers a tremendous range of versatility in what is perhaps the most popular parts size. The 44V was a great success at its introduction at IMTS, and we look for an even greater reception for both machines at Eastec. The VTM-80YB brings unprecedented 5-axis flexibility to vertical turning of large complex parts. Manufacturers of aircraft engines, valves, and power transmission systems will no longer have to move these parts to separate machines for machining operations. The savings in time and money will result in fast payback and, because double set-ups have been eliminated, better quality parts."

For further information, contact your local Okuma & Howa representative or KGK International at 847-465-0160 or at kgki.com.

More from Architectural & Civil Engineering Products