Machining Centers have twin spindles.
Press Release Summary: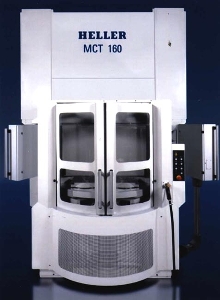 MCT 160 and MCT 250 both have twin spindles with dedicated B axis for each spindle, allowing simultaneous machining on four sides of two different parts. Both models have twin automatic toolchangers with servo-driven lift and rotate systems. Working envelopes for each spindle are 450 x 450 x 450 mm for MCT 160 and 690 x 690 x 520 mm for MCT 250. Maximum part sizes for the MCT 160 and MCT 250 are 450 mm dia or 600 mm high and 700 mm dia or 750 mm high respectively.
---
Original Press Release:

Twin-Spindle Machining Center to Debut at IMTS


Troy, MI-HELLER Machine Tools will demonstrate the production capabilites of its new MCT Series Twin-Spindle Machining Centers at IMTS Booth 8448, September 4-11. Responding to the requirements for flexibility and productivity at automotive and Tier One manufacturers, the new series includes two size ranges with twin spindle units for simultaneous machining of like or different parts, such as left- and right-hand parts.

Designed for multiple part fixturing, the new machines-MCT 160 and MCT 250 -- feature a dedicated B axis for each spindle, allowing simultaneous machining on four sides of two different parts, and time-saving twin automatic toolchangers. The shared X- axis is integrated into the column and the shared Y-axis is a vertical slide. The independent ram-style Z-axes are integrated in the Y-slide. This axis arrangement allows the MCT to be integrated into a Heller flexible system transfer (FST)--a key feature of Heller's flexible machining system strategy-and to operate as a stand-alone machine tool.

"The MCT Series is the latest element from Heller to help our customers implement a successful flexible production strategy," said Andre Ey, Heller vice president sales and marketing. "We have engineered production machining centers, head changers, and transfer lines with common interfaces to permit the exchange and application of system components. With this type of product range and flexibility, we can meet a customer's needs and recommend the most productive and cost-efficient way for them to go."

Manufacturers can ramp up and debug production cost-effectively, change to a transfer system as production increases, and just as economically ramp down production as the product life winds down. According to Heller, this strategy makes efficient long-term use of capital, permits agile response to markets, and provides a flexible production system that meets long- and short-range manufacturing goals. The MCT series is the newest element in helping manufacturers meet these goals.

MCT Features
The generous working envelope for each MCT spindle in X/Y/Z is 450 mm X 450 mm X 450 mm (690mm X 690 mm X 520 mm for the larger MCT model) and accommodates a maximum part diameter 450 mm (700 mm) and maximum part height 600 mm (750 mm) from pallet surface. Z-axis rams do not interfere with the working area.

The machines occupy minimum floorspace, yet provide high productivity with optimum flexibility and an excellent price/performance ratio. The compact design features a machine width of 2450mm and height of 3400 mm-easily fit into a transfer system design as production demands increase.

High speed is another feature of the MCT series. The X-axis with two drives and two ballscrews achieves 1g acceleration and 60,000 mm/min rapid traverse. The vertical Y-axis is equipped with a pneumatic counter balance cylinder for smooth, steady positioning. Each Z-axis ram has its independent ballscrew and drive. In all axes, linear compact-roller guides support rapid axis movement, and roller shoes are connected to the central lubrication system. To assure accurate position, each guide rail is clamped against a precision locator edge.

A servo-driven lift and rotate system within each toolchanger assures very short chip-to-chip time with highest reliability. Individual chain-type tool magazines for each spindle provide standard (40) tool and optional (60) tool capacity. High bi-directional rapids allow short tool selection/presentation times. Operators have a clear view of tools within the magazine, and easy access to tools in the spindle with the option of changing tools directly in the spindle.

The servo-driven 360 000 x 0,001° B-Axis locates pallets with fixed centering pins. Extreme positioning accuracy is accomplished through pre-loaded axial and radial bearing packages and maximum tangential stiffness is assured through twin worm gear and disk brake. Direct measurement contributes to very high process capability shift after shift. Part clamping is achieved through a central connection in the pallet to the hydraulic system.

To accommodate ease of part loading and setup, the standard MCT series machining centers include a 180-degree, hydraulically clamped palletchanger designed into the machine base. Operators can rotate the pallet (4 x 90°) in part load station. Base machine without palletchanger designed for direct part loading into the fixture. The B-axis clamp and location points are completely covered during palletchange, avoiding exposure to contamination.

Ergonomically and environmentally friendly, the MCT part load station is designed for coolant and chip return into the machine base. All sub-assemblies are easily accessible for maintenance.

Structure built for dynamic operation.
Stiff column and base weldment designs were developed using finite element methods in thermosymmetrical construction. The base includes steep chip roll-off angles and oversized central chip conveyor located perpendicular to the Z-axis to ensure efficient chip evacuation.

Heller is long-experienced in engineering world-class production capability. More than 600 Heller manufacturing systems and 2000 machining centers are installed worldwide making all types of complex, high-accuracy parts, from engine blocks and crankshafts to medical devices. Other Heller machining center solutions include the multi-spindle HCS headchangers for mid-high volume production, MCS machining centers for frequent changeover applications, and the MC series of compact horizontal machining centers.

More from Fasteners & Hardware