Machining Centers combine turning and grinding.
Press Release Summary: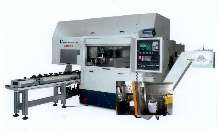 Suited for wheel or hub type components, Stratos Series CNC multi-tasking centers offer vertical part pick-up and integrated part handling. Models are available with 2, 3, and 4 workstations. Internal grinding system includes arbor with 150 mm aluminum oxide or CBN wheels and 36,000 rpm spindle drive. External grinding system has interchangeable spindle and motor units and 3,000 rpm spindle drive. Centers are based on Siemens digital control and SIMODRIVE axis drive components.
---
Original Press Release:
Turning/Grinding Center Slashes Processing Time 25 Percent

MIAMISBURG, OH - United Grinding Technologies, Inc. (UGT) announces the Stratos Series, the latest in high-performance CNC multi-tasking centers from Studer Schaudt.

The Stratos offers an innovative design that combines dual processing - turning and internal/external grinding - and integrated material handling in a single machine and a single setup. The results are shorter cycle times, greater throughput and improved part quality due to reduced component handling and the elimination of multiple setups and operations. Up to four workstations deliver a unique solution for turning and grinding bores, diameters and end faces in one clamping. The Stratos compact design and vertical part pick-up and integrated part handling make it a strong candidate for easy integration into new or existing manufacturing systems.

Processing flexibility

The number of workstations and workpiece size define each of three Stratos models. The Stratos S, for example, is ideal for rapid processing of large batches and has two workstations and tackles workpieces up to 100 mm in diameter. Chuck diameters range from 125 mm to 210 mm. The Stratos M provides ultimate processing versatility with up to four workstations - for example, two stations for turning, one for external cylindrical grinding and one for internal circular grinding or honing. Workpiece capacity is up to 150 mm, and chuck diameters range from 210 mm to 260 mm. The Stratos L has up to three workstations and handles workpieces up to 200 mm. Chuck diameters range from 260 mm to 320 mm.

Axes. The new Stratos Series features a maximum swing of 380 mm. X-axis travel is 1050 mm to 1750 mm. A low-noise linear drive motor delivers acceleration of 5 m/sec² and a rapid traverse rate of 60 m/min. Z-axis travel is 250 mm with a rapid traverse of 30 m/min. X and Z resolution is 0.000 1 mm.

Grinding. The internal grinding system features an arbor with 150 mm aluminum oxide or CBN wheels. A 36,000 RPM, 8.5 kW (or 24,000 RPM, 16 kW) high-frequency spindle drive is standard. The external grinding system features interchangeable spindle and motor units and a 3000 RPM, 8.5 kW spindle drive. Sensor-controlled constant stock removal and dynamic balancing result in longer wheel life and lower tooling costs. 400 mm aluminum oxide or CBN wheels are standard.

Dressing. The Stratos dressing system features a 72 mm diameter spindle with a high-frequency 10,000 RPM, 0.55 kW spindle drive and 90 mm cup-shaped diamond dressing wheel. The dressing unit is fitted immediately next to the workpiece spindle head, thus assuring precise dimensional accuracy between the dressing tool and the grinding wheel on the work surface.

Turning. The turning system features manually activated block-type lathe tools rigidly mounted to the machine bed pedestal, providing high-precision, deep cuts and short cycle times. The conventional high-speed or CBN tools are quick and easy to change. Vertical turning facilitates easy chip control and removal.

Pick-ups. The Stratos features a vertical workpiece spindle and a hydrostatic cross slide. The 3000 RPM spindle has a load capacity of 1500 N (kg/sec² ) The spindle nose is A6 (DIN 55026).

Features

A cast mineral bed provides superior rigidity, excellent vibration damping and optimal thermal stability. An independent cooling system controls the temperature of all hydrostatics, spindles, motors, clamping cylinders and the control cabinet, further adding to overall machine and process thermal stability. The open architecture machine design provides easy access to all components for quick changeover and maintenance. Setup times of 15 minutes or less are not uncommon.

The Stratos offers an ideal solution for series production of medium- to large-sized precision wheel- or hub-type components. The dual grinding and turning process has proven to reduce processing time by 25 percent compared to conventional grinding and hard turning.

State-of-the-art Siemens digital control and SIMODRIVE axis drive components are at the heart of the new Stratos processing centers. Machine operation, setup, changeover, dressing and programming of even complex parts are easily accomplished through an innovative step-by-step, on-screen operator interface. The Siemens Sinumerik 840D control package features application-specific software routines and setup algorithms to seamlessly synchronize the grinding and turning processes. Remote diagnostics, process control and trouble-shooting via standard telephone line and machine modem link are easily facilitated.

The Stratos multi-tasking processing centers are supported by an expert team of grinding specialists drawing on more than 14,000 grinding machine installations and support and service centers in more than 50 countries.

United Grinding Technologies Inc., the North American arm of the Korber-Schleifring Group and supplier of such venerable nameplates as Blohm, Ewag, Jung, Magerle, Studer, Studer Mikrosa and Studer Schaudt, is a global leader in grinding technology and has built a reputation for industry-leading innovation and unparalleled service and support.

For more information, contact United Grinding Technologies, Inc.; 510 Earl Blvd., Miamisburg, OH, 45342. Tel: 937/847-1222. Fax: 937/859-1115. www.grinding.com.
More from Sensors, Monitors & Transducers