Machining Center works with graphite or metal.
Press Release Summary: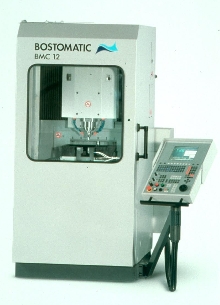 BMC 12 TNC vertical machining center includes digital drive technology, sealed cabinet, and integrated extraction system. Liquid cooled spindle motors with hybrid ceramic ball bearings achieve speeds up to 30,000 rpm. Heidenhain TNC426 control offers 3D graphics, 3D cutter compensation, and 1.5 Gb hard drive. Ethernet card allows integration into existing fixed network. Laser measurement system monitors lengths and radii of tools at operating rpm.
---
Original Press Release:
Mikron Bostomatic Introduces The Bostomatic BMC 12 TNC For High Speed Machining Of Graphite And Precision Parts
New US-Made Unit Delivers Dynamic Performance and More Profitable Machining of Graphite or Metal MILFORD, Mass., Apr. 18, 2002 -Mikron Bostomatic Corporation, a subsidiary of Agie Charmilles Group, the world's leading system provider to the tool and moldmaking industry, has launched the BMC 12 TNC vertical high speed machining center, specifically designed for machining graphite as well as metals. The highly versatile, bridge-type Bostomatic BMC 12 TNC is equipped with digital drive technology to ensure excellent machine performance, even with complex three-dimensional machining, and offers increased speed, tighter tolerances, and better surface finishes for a wide range of materials and applications, including high accuracy graphite electrode machining. Manufactured by Bostomatic Corporation at Davidson, North Carolina, the BMC 12 TNC features a completely sealed cabinet and powerful, integrated extraction system, including a suction frame, that efficiently removes dust from the point of machining, making the BMC 12 TNC highly suitable for graphite machining. Linear guides and high precision ball screws ensure precise positioning and exceptional stiffness to achieve the higher feed rates and accelerations required to machine graphite. Axis accelerations of up to 1.7g are achieved. The three-ton concrete polymer base of the BMC 12 TNC provides outstanding rigidity and stability for superior damping characteristics and resistance to dynamic loads. The digital axis drive and preloaded re-circulating ball screws ensure excellent workpiece surface geometry and optimal finish. The BMC 12 TNC features liquid cooled spindle motors with hybrid ceramic ball bearings to achieve speeds up to 30,000 rpm. Its permanently sealed grease lubrication system prevents oil drips from the spindle head and the standard oil mist lubrication system reduces lubricant consumption while eliminating the handling and disposal of coolant emulsions. The BMC 12 TNC is equipped with a powerful Heidenhain TNC426 control system to improve operator prompting and enhance performance. The TNC426 offers a host of standard features, including 3D graphics, advanced high-speed functions, 3D cutter compensation, and a 1.5 Gigabyte hard drive. A standard Ethernet interface card allows integration into an existing fixed network. A built-in standard laser measurement system precisely monitors lengths and radii of tools at the operating RPM. A standard Microlubrication system allows machining of hard metals. Mikron Bostomatic Corporation provides sales, service, parts and technical support of Mikron and Bostomatic high speed, high performance machining centers, the industry's widest range of machines, with travel ranges from 15 through 54 inches, spindle speeds up to 60,000 rpm, in a multitude of three-, four- and five-axis configurations for die/mold, job shop, aerospace, medical, electronic and other high precision applications. Headquartered just west of Boston, the company maintains fully equipped, state-of-the-art technology centers in Milford, Mass., and Chicago, Ill., for customer demonstrations. For more information on the BMC 12 TNC or other Mikron Bostomatic products, contact Mikron Bostomatic Corporation, 125 Fortune Boulevard, Milford, Mass. 01757. Telephone: (508) 473-4561; fax: (508) 478-7224; E-mail: info@mikronus.com. Additional details are also available at the company's website, www.mikron-ac.com.
More from Material Processing