Machining Center offers 2.6 m Y-axis travel with no rigidity loss.
Press Release Summary: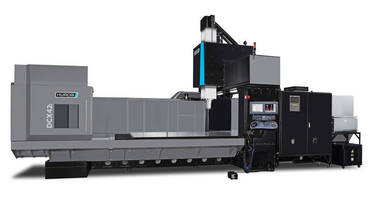 With respective X-, Y-, and Z-axis travels of 4.2, 2.6, and 1.1 m, 51 ton DCX42i twin column, bridge type, vertical spindle machining center supports single components up to 16 tons on cast-iron table and exhibits thermal stability for accurate machining. Spindle (60 kW), mounted in vertical ram of box-construction, can be supplied with max speed of 6,000 or 10,000 rpm, and tool magazine has 40 stations for BT50 tool holders and swing-arm tool changer that keeps carousel clear of swarf.
---
Original Press Release:

Hurco Expands Large Machining Centre Range



Having introduced a pair of twin-column, bridge-type, vertical-spindle machining centres in 2009, Hurco Europe has now added a third, much larger model, the DCX42i. The 51 tonne machine has a 4.2 metre X-axis travel, plus 2.6 metres in Y and 1.1 metres in Z, providing a working volume nearly double that of the next model down, the DCX32i, and more than four times that of the DCX 22i.



A major advantage of the design over a traditional C-frame is that a much larger Y-axis travel can be achieved without the loss of rigidity. It also offers superior thermal stability for higher accuracy machining and allows heavier table loads, so large components can be produced to tight tolerances.



A single component of up to 16 tonnes can be carried on the table of the DCX 42i. The massive cast-iron structure was designed using finite element analysis, ensuring that there is sufficient weight and strength to take the heaviest of cuts.



The 60 kW spindle, mounted in a vertical ram of box-construction, can be supplied with a maximum speed of either 6,000 or 10,000 rpm. It is oil / air cooled and can deliver up to 570 Nm of torque. The tool magazine has 40 stations for BT50 tool holders and a swing-arm tool changer that keeps the carousel clear of swarf and maximises the working envelope.



All DCX machines are fitted with the Hurco WinMax twin-screen control. Standard features include simple conversational programming, full industry standard NC capabilities and a 64 GB hard drive. Ultimotion high-speed profiling software reduces cycle times by up to 30 per cent.



The flexibility of the control is a major factor in ensuring that any job, no matter how complex or simple, can be programmed in the shortest possible time with the least effort. Options include Ultimonitor web-based networking to allow remote machine surveillance and Extended Shop Floor for diagnostics.



On behalf of:   

Hurco Europe Ltd

Halifax Road, Cressex Business Park

High Wycombe, Bucks, HP12 3SN

Tel: +44 (0)1494 442222

Fax: +44 (0)1494 443350

Email: sales@hurco.co.uk

Web: www.hurco.co.uk

Contact: David Waghorn, Managing Director



Issued by:

THE RIGHT IMAGE Ltd

PO Box 42, Twickenham, TW1 1BQ

Tel: +44 (0)20 8891 0603

E-mail: chris@therightimage.net

Web site: www.therightimage.net

Contact: Chris Wright

More from Agricultural & Farming Products