Machining Center integrates multiple processes in one setup.
Press Release Summary: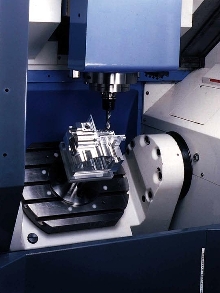 Variaxis 500 offers rotary table with A-axis tilting angle from -120° to +30° and simultaneous 5-axis machining capability of multiple-faced parts. Machining center can machine top and four sides of workpiece as well as inclined faces and angled holes. Its 19.7 x 15.7 in. table and 360° C-axis rotation provides machining flexibility. A and C axes can be indexed in 0.001° increments. Spindle offers max speed of 12,000 rpm with 30 hp motor.
---
Original Press Release:
Mazak's New Variaxis 500 Offers Full 5-Axis Control for Complex Surface Machining in a Single Setup

By integrating multiple machining processes in a single setup, Mazak's new Variaxis 500 Vertical Machining Center with tilt and rotary table offers high flexibility with its full 5-axis machining capability to produce complex 3D or multiple-faced parts in one setup.

With one setup production, lead times and costs are substantially reduced while overall part quality is increased by keeping the part on one machine and one fixture.

Mazak's new Variaxis 500, 5-Axis Machining Center can machine the top and four sides of a workpiece as well as inclined faces and slanted holes. Full five axis contouring is a bonus with this machine. Its control system is a Fanuc 16I. Mazatrol 640 Fusion control with conversational programming is available for fast and easy input.

The Variaxis 500 features a rotary table with an A-axis tilting angle of 150° (-120° to +30°). With the 19.7" x 15.7" table rotating (C-axis) through 360°, there is a high degree of machining flexibility. The A and C axes involved in these movements can be indexed in 0.001° increments.

The Variaxis 500 is well suited for many types of complex part configurations like aircraft fuel manifolds, ABS brake bodies and especially suited for prototype aluminum automotive cylinder heads, all with many odd angled holes. Maximum allowable workpiece weight is 660 pounds.

The spindle offers a maximum speed of 12,000 RPM with a 30 HP motor. A #40 CAT shank is used with a 30-tool storage capacity. High pressure through the spindle coolant is available for deep hole drilling and overall enhanced cutting performance.

Mazak's Variaxis 500 offers a 0.9 second (tool-to-tool) tool change time. High speed traverse and cutting rates are 1969 IPM. The X and Y axis travel is 20" and the Z-axis is 18". With the very rapid moves of this machine, ball screw core cooling is provided to maintain a stable temperature and high accuracy.

A tool length measurement system for tool setup and automatic broken or worn insert inspection is available.

Mazak is a world leader in machine tool technology. From advanced multi-tasking machine tools, vertical and horizontal machining centers and turning centers to fully automated Palletech Manufacturing Cells and PC based CNC controllers, Mazak stresses its engineering developments to provide our customers tangible value-added benefits and the most productive machine tools available. Application assistance available from ten regional Mazak Tech. Centers. For more information, contact the Mazak Corporation at (859) 342-1700 or visit the Mazak website at www.mazak.com.
More from Waste Management & Waste Handling Equipment