Machining Center features 30,000 rpm spindle.
Press Release Summary: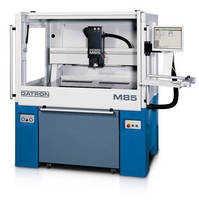 Incorporating 40 x 30 in. solid concrete-polymer machining table and 1.2 kW machining spindle with feed rates of up to 550 ipm, M85 is suited for milling, drilling, and engraving aluminum, plastics, stainless steel, brass, and exotic composites. Features include spray-mist coolant system, 10-station Automatic Tool Changer (ATC) with tool database and tool-length sensor, PC, flat-screen monitor, and handheld remote. Machine can also perform 2D or 3D engraving in stainless steel.
---
Original Press Release:

DATRON Releases the M85, German-Engineered, High-Speed Machining Center



Milford, NH - Based on their flagship, M8 high-speed machining center, Datron Dynamics, Inc. has introduced the M85 - featuring a 30,000 RPM spindle. This German-made machine has a solid concrete-polymer machining table that provides 40" x 30" of work area and a 1.2 kW machining spindle delivers feed rates of up to 550 inches per minute. DATRON positions this model as an economical means of milling, drilling and engraving aluminum, plastics, stainless steel, brass, and exotic composites. The M85 is ideal for the production of panels and housings, plastic machining and 2D or 3D engraving in stainless steel.

According to Datron Dynamics Vice President, Robert Murphy, "The M85 is based on our M8 chassis, but has a lower RPM spindle for applications that don't require the speed or accuracy of the M8." He adds, "There are a number of industries that don't need all of the features of the M8, but still want Datron quality and access to unique Datron options like XYZ probing - and the M85 delivers just that."

Included with the M85 as standard features are a spray-mist coolant system, 10-station Automatic Tool Changer (ATC) with tool data base and tool-length sensor, Microsoft® Windows®-based control software, PC, flat-screen monitor and hand-held remote, as well as, a full safety protective enclosure with lock out/tag out capability.

M85 options include 3D probing, integration of virtually any CAD/CAM software and a variety of integrated workholding solutions like pneumatic clamping systems and DATRON's proprietary VacuMate vacuum tables.

About Datron:

Datron Dynamics is the North American affiliate of DATRON AG, a German technology firm established in 1969 that has become a leader in the design and development of CNC machining and dispensing systems. Founded in 1996 by President, William King, Datron Dynamics is differentiated in the marketplace by its focus on high-speed machining with micro-tooling. Datron machines feature 30,000-60,000 RPM spindles that produce low force, feed rates of up to 1000"/minute and superior quality when using intricate tooling. An Ethanol-Mist Coolant System(TM) provides superb surface finishes and eliminates secondary processes like de-burring and de-greasing. Other features such as the Z-Correction Probe(TM), Automatic Tool Management System(TM) and their proprietary Quick-Pallets(TM) and VacuMate(TM) workholding systems enable batch machining and "lights-out" production. These distinctions have resulted in thousands of installations worldwide within industries requiring superior production of electronic housings, embossing dies, firearm engraving, rapid prototyping, 3D precision engraving, electronic panels and the production of electro-mechanical and aerospace parts.

For more information on Datron, contact Robert Murphy at Datron Dynamics, Inc., 115 Emerson Road, Milford, NH 03055, 888-262-2833 or visit www.datron.com.

Contact:
Steve Carter
(603) 672-8890 x 804

More from Services