Machining Center combines turning and grinding.
Press Release Summary: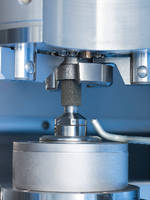 Combining vertical turning technology with finish grinding, Model VLC 100 GT is suitable for chucked components up to 100 mm in diameter, such as gears, single cams and cam rings, pump rings, or sprockets. Main spindle provides max speed of 6,000 rpm and power rating of 19.5/12.5 kW at 40%/100% duty cycle. Equipped with integrated measuring technology, machine utilizes pick-up concept where main spindle is used to load and unload workpieces from integrated conveyor belt or shuttle.
---
Original Press Release:

Combination Machining: The Perfect Finish in a Single Setup



When it comes to machining times, combining various machining processes in one setup offers enormous cost and time-saving potential. With the combination of hard turning and grinding, for example, only the geometries which require greater precision are ground after turning. For this requirement, EMAG developed the VLC 100 GT that efficiently combines vertical turning technology with finish grinding. For chucked components up to 100 mm in diameter, such as gears, single cams and cam rings, pump rings or sprockets, first-grade machining results are achieved in massively reduced cycle times.



Two machining processes that lend themselves for ideal combination are turning/hard turning and grinding. The first step is to pre- or complete-machine all those component surfaces that can be hard turned and then, without having to change the setup, finish grind all areas that require high-precision geometries. This process has two advantages; the turning process is considerably faster than grinding flat surfaces and wear and tear on the grinding tools is vastly reduced with only finish grinding operations carried out. Since the workpiece is machined in a single setup, the whole process is more efficient, without clamping errors, and less time-consuming than when carried out on two machines. The VLC 100 GT integrates combination machining into EMAG's well proven pick-up concept, where the main spindle is used to load and unload workpieces from the integrated conveyor belt or shuttle. The machining area is easy to equip with a variety of turning and grinding modules. This compact manufacturing system also includes integrated measuring, thus guaranteeing a top, if not improved, component quality at a reduced cost per part.



The customer benefits from the flexible configurability of the VLC 100 GT, as it covers a wide range of applications. For example, it can be used as a "conventional" vertical grinding center equipped with two grinding spindles for external and internal grinding, or for combination machining, with an additional block toolholder for hard turning operations. The VLC 100 GT can be equipped with corundum or modern CBN grinding technology and vitrified-bonded CBN grinding wheels can be dressed using a rotating diamond roll. A structure-borne sound system serves as GAP-control between the dressing roll and grinding wheel. An adaptive process control system achieves the shortest possible cycle times. 



All vertical pick-up machines from EMAG feature a machine base of MINERALIT® polymer concrete that stands out for its damping effect, 8-times greater than a cast iron base. This exceptional vibration damping quality significantly contributes to the excellent surface finish of the components. Optimal machining quality is achieved with the integrated measuring probe, located between the machining area and pick-up station, where it is not only protected from debris, but allows the measuring process to take place in the same setup, either directly before or after machining to save clamping time. The probe can also be used to take intermediate measurements.



Example: combination machining of a sprocket

The quality of the VLC 100 GT is best shown by a concrete example, such as the machining of sprockets, which clearly display the advantages of combination machining. Once the pick-up spindle has loaded the component, the integral internal grinding spindle carries out the first operation. Then the sprocket bore, with its small allowance, is finish ground with CBN. The two block toolholders also present in the machining area then machine the flat surfaces on the sprocket. The hard turning technology used for this operation not only results in very short machining times, it also ensures that no subsequent operations are necessary. The measuring probe, located between the machining area and the loading station, now proofs the machining quality. The whole process takes under 50 seconds in one clamping operation, underlining the excellent performance of this vertical turning/grinding center.



With the VLC 100 GT, EMAG has created a system for the combination machining of chucked components, known for its impressive performance despite its compact construction. Making use of the pick-up spindle to load the machine, plus the application of cutting-edge grinding technologies in combination with turning operations, provides a machine design firmly focused on performance. Whether the VLC 100 GT is used in a production line for the manufacture of large quantities of components, or as a stand-alone, this vertical turning/grinding center offers itself to a vast range of applications.



The VLC 100 GT at a glance:

• The highly flexible VLC 100 GT vertical pick-up combination machine allows for the use various machining technologies, whether two spindles for external and internal grinding are required for the job in question, or one or two block toolholders and a grinding spindle

• Ideal for the cost-effective, precision manufacture and finish-machining of medium and large batches of chucked components at great process integrity at high output rates

• Complete-machining in a single setup

-- Improved workpiece quality and greater productivity

• Higher life expectancy for turning, grinding and dressing tools

-- Minimization of tooling costs

• Only small amounts of grinding sludge are generated during combination-machining

-- Minimization of waste removal costs



Technical data for the VLC 100 GT


| | | |
| --- | --- | --- |
| Chuck diameter, max | mm | 160 |
| Machining diameter, max | mm | 100 |
| Main spindle – Power rating at 40 / 100 % duty cycle | kW | 19.5 / 12.5 |
| Swing diameter | mm | 210 |
| Travel in Z | mm | 375 |
| Travel in X | mm | 900 |
| Main spindle – speed, max | rpm | 6,000 |
| Main spindle – Torque at 40 / 100 % duty cycle | Nm | 75 / 48 |
| Main spindle – front main spindle bearing, max diameter | mm | 80 |



Contact for press and publishers

Kristal Kilgore

Marketing Manager, EMAG LLC

38800 Grand River Ave

Farmington Hills, MI 48335

(248) 442-6719

kkilgore@emag.com

www.emag.com

Related