Machining Center allows 5-axis/5-sided machining.
Press Release Summary: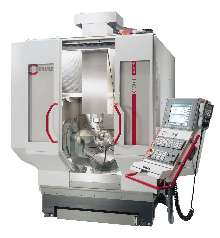 Model C30U Dynamic(TM) utilizes gantry design in combination with 630 mm dia tilting rotary table, capable of simultaneous machining of complex aerospace parts up to 800 mm. Features include spindle speeds up to 40,000 rpm; axis travel of 650, 600, and 500 mm in X, Y, and Z axes, respectively; and standard 32-tool pockets extendable for 117 or 194 tools. Modular design enables alternate clamping systems, cooling and filtering options, and graphite machining package.
---
Original Press Release:

Hermle Showcases New Approach to 5-Axis Machining at Westec 2004 Advanced Productivity Exposition


Franklin, WI (For Immediate Release) - - - Hermle Machine Company, in association with software developer DELCAM International, will present a new addition to the Hermle product line for applications requiring full simultaneous 5-axis and/or 5-sided machining: the C 30 U Dynamic.(TM) Utilizing software from DELCAM International, the C 30 U will offer visitors the opportunity to view the machining of complex aerospace parts in booth #2745 at the upcoming Westec 2004 Advanced Productivity Exposition. Developed in response to the ever-increasing demand for 5-axis performance, the C 30 U is designed for precision machining in modern alloys and non-traditional materials.

The C 30 U Dynamic utilizes Hermle's patented gantry design in combination with a 630 mm diameter tilting rotary table capable of simultaneous machining of work pieces up to 800 mm. Production capability is enhanced by a rotational speed of 65 rpm in the C-axis (360°) and up to 55 rpm in the trunnion type A-axis (+30°/-115°).

For increased production of smaller sized parts, the new C 30 U Dynamic can be equipped with a 280 mm diameter rotary table mounted on the tilting trunnion type A-axis. The rotary table operates at speeds up to 40 rpm (360°), and the tilting A-axis (± 115°) can be actuated up to 55 rpm.

Faster production potential is assisted by the standard rapid traverse rate of 45 m/min in the X-Y-Z axes in the standard machine, and 60 m/min in the Dynamic version. Acceleration is 6 m/s2 (.6G) and 10 m/s2 (1G), respectively.

Standard spindle speed of 10,000 rpm, with optional 18,000, 28,000 and 40,000 rpm speeds, extends the range of capabilities from high torque, hard metal operations to high-speed machining of complex parts.

Axis travels are 650, 600 and 500 mm in the X-Y-Z axes, respectively. C-axis actuation utilizes a direct drive torque motor (630 mm design only), and both A and C axes feature Hermle's patented drive system.

Thirty-two (32)-tool pockets are standard. Optional magazine extensions can increase capacity to 117 or 194 tools, with a chip-to-chip tool change time of 4.5 sec.

Modular Design for Maximum Flexibility

A wide range of options can be incorporated to suit specific applications or production systems.
o Alternate clamping systems including SK 50 or HSK A 100 can be integrated into the rotary tables.
o Work holding can be accomplished through a variety of means including T-slots, zero-point clamping systems, palletizing and other means.
o A variety of coolant options and filtering systems are available including turbo filter, paper ribbon filter, or sieve basket.
o An optional graphite machining package provides full capability for electrode production or composite material machining.

New Pallet Change Option

For manufacturing cells or fully automated operation, the C 30 U Dynamic can be equipped with Hermle's newly designed PW 500 or PW 630 pallet changers. Built on a mineral casting base to eliminate thermal distortion, the pallet changer is isolated from the machine to ensure vibration-free operation.

Hermle's unique design provides operator accessibility to the machine workspace without impinging the pallet set-up. A large door opening permits multiple loading options including gantry or crane.

The unique pallet clamping system incorporates a modified cone-shaped element for pre-centering, and clamping balls for precision positioning. A chip blowing system eliminates the possibility of contamination in the clamping area.

Customers considering the addition of a pallet changing system at a later time can specify a "pallet ready" version of the C 30 U Dynamic that permits fast, easy installation of the pallet changer at a later date.

Designed for the Present... and the Future

The C 30 U Dynamic represents the cutting edge of a new generation of machining centers designed to excel in today's production environment and to enable manufacturers to compete successfully in the years to come. According to Kenneth Merk, Executive VP-Sales & Service, "Hermle's well received 5-axis concept has taken a giant leap forward - separating us from the competition. In conjunction with DELCAM International's exceptional software, our machining centers are helping customers with a wide range of aerospace and other demanding applications in specialized alloys. In fact, Hermle's extensive experience in 5-axis machining is proving invaluable to manufacturers who require complex parts in production quantities."

For more information on the C 30 U Dynamic or on other Hermle Machine products, please contact Kenneth Merk, Executive VP-Sales & Service, at 414-421-9770.

Hermle Machine Company, located in Franklin, Wisconsin, is the North American headquarters of Maschinenfabrik Berthold Hermle AG located in Gosheim, Germany. The firm handles all sales support and service functions for a network of distributors located throughout Canada, the U.S. and Mexico. Hermle produces a wide range of precision machine tools noted throughout the world for their exceptional accuracy and high quality.

More from Communication Systems & Equipment