Machines process diamond/CBN wheels for grinding systems.
Press Release Summary: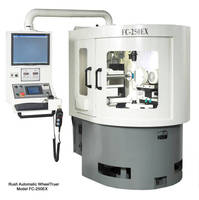 Designed for processing flats, angles, and radii on diamond/CBN single wheels and multiple wheel packs, Models FC-250EX and FC-700EX Automatic Diamond and CBN Wheel Truing and Dressing Machines feature PLC-controlled, automatic dressing cycles with servo-driven dressing wheel infeed, power swing, and oscillation. With wheel diameters up to 28 in., other features include ExVision, a computer-driven vision system with software program; an automatic power zoom; and a 2-axis DRO for measurement.
---
Original Press Release:

Automatic Diamond/CBN Wheel Truing & Dressing Machine



Rush Machinery has introduced the FC-250EX and FC-700EX Automatic Diamond and CBN Wheel Truing and Dressing Machines.

The Models FC-250EX and FC-700EX are designed for truing and dressing of flats, angles, and radii on diamond and CBN single wheels and multiple wheel packs. They feature PLC-controlled, automatic dressing cycles with servo-driven dressing wheel infeed, power swing and oscillation. The machines can be fully enclosed for operator safety and dust control.

Use of the Models FC-250EX and FC-700EX allows for increased efficiency and accuracy by profiling, modifying profiles and truing wheels offline of the production grinding machinery. The machines are simple to operate, quick, accurate and cost effective and feature wheel diameter capacities up to 28" (700mm).

The heavy duty one piece cast iron base provides extra rigidity and minimizes vibration. Standard features include ExVision, a computer-driven vision system with a software program specifically designed for the FC-250EX and FC-700EX and their various applications; an automatic power zoom; and a 2-axis DRO for measurement.

FOR FURTHER INFORMATION, CONTACT:

Ted Hildebrant, Sales Manager

Rush Machinery, Inc.

4761 Route 364, Rushville, NY 14544, USA

Tel: 800-929-3070 or 585-554-3070

Fax: 585-554-4077

Email: ted@rushmachinery.com

More from Machinery & Machining Tools