Machined Springs utilize flexible coupling technology.
Press Release Summary: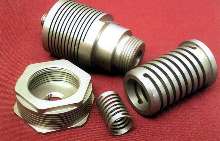 Utilizing flexible coupling, helical beam technology, machined springs use flexible helix beam (flexure) as torsion or compression-extension spring. Customer-specified end attachments that can be integrated into one machined spring include clamps, tangs, flanges, or threaded ends.
---
Original Press Release:

Flexible Coupling Technology Applied to "Machined" Spring Manufacture


SANTA MARIA, CA., April 12, 2004-Helical Products Company, Inc. is applying its flexible coupling, helical beam know-how to the design and manufacture of high performance, "machined" springs. This applied technology removes much of the guesswork from the trial and error usually associated with the production of machined springs. Performance of the Helical machined spring has proven to be predictable and repeatable while meeting dimensionally tight tolerances.

Most engineers are familiar with wire wound spring products. But they generally are not familiar with Helical's use of the flexible helix beam, "flexure," as a torsion or compression-extension spring. The same Helical technology used in the manufacture of couplings also applies to machined springs. Customer specified end attachments that can be integrated into a single machined spring include clamps, tangs, flanges or threaded ends. Such attachment features, integrated with the HELI-CAL Flexure, can have a marked impact on system performance production efficiencies as well as overall cost savings.

For more information contact Helical Products Company, Inc., P.O. Box 1069, Santa Maria, CA 93456. Tel (877)353-9873, Fax (805)928-2369, Web site: http//www.Heli-Cal.com.

FACTS ABOUT HELICAL:

Helical Products Company, Inc. is a U.S. company that designs and manufactures flexible couplings, U-joints, machined springs, and power transmission couplings for both domestic and international markets. Its products are sold through manufacturer's agents in the U.S. and distributors overseas. Couplings presently account for approximately 65% of sales, machined springs 22%, and all other miscellaneous 13%.

The firm has been in business 40 plus years, and is known worldwide for its quality products and excellent service. The "HELI-CAL Flexure" is a continuous flexible beam that gives special flexing qualities to Helical's primary products. The flexure can take on many characteristics, depending on coil configuration and material utilized. The unique "HELI-CAL Flexure" can be applied to the use of magnetic or non-magnetic corrosion resistant stainless steels, as well as aluminum alloys, Delrin and titanium. Because of the way Helical has organized and automated its proprietary production processes, customers can initiate the manufacture of a specified part today and be assured of an exact replacement of the original for years to come.

Helical has the unique ability to take a piece of bar stock and make it a flexible coupling possessing one piece integrity. Since its beginning, the HELI-CAL Flexure has been refined and developed to accommodate a wide range of applications. This continues to be the reason for the continued success of Helical's products.

HELI-CAL Flexures can be found in applications ranging from satellite instruments and scientific apparatus to conveyors, oil field and medical equipment. Helical's engineers enjoy an impressive track record of precisely matching the dimensional and operational characteristics of a broad array of applications, (in the thousands).

Helical's patents and manufacturing processes have enabled it to become recognized as a distinct organization which supplies users with what is known as the Helical flexible coupling. Helical's products are different because every HELI-CAL Flexure performs multiple functions without separate parts or the associated backlash usually associated with multi-piece flexible couplings.

Helical's reputation has been established by giving excellent service, working directly with customer engineers, on time delivery, attention to detail, and last but not least, the production of quality products.

More from Sensors, Monitors & Transducers