Machine Vision System enhances productivity via intuitive UI.
Press Release Summary: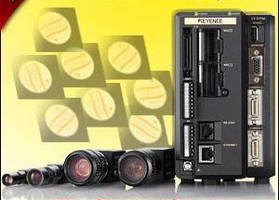 Through its intuitive interface, CV-X100 Series enables users of all skill levels to setup/customize inspections for all application requirements. Tool selection variety accelerates and facilitates inspections, while Auto-Teach Inspection smart tool can distinguish between defective and non-defective part. Users can widen variable range allowed for non-defective workpieces, and measurements can be accomplished via mouse-based operations without requiring any calculations.
---
Original Press Release:

CV-X100 Series: Power Meets Simplicity



Power Meets Simplicity

Intuitive Auto-Teaching, Machine Vision System



KEYENCE introduces the newest addition to their Machine Vision product lineup, the CV-X100 Series. Designed to be powerful yet simple, the intuitive interface allows users of all levels to easily set up/customize robust inspections for all application needs. Select from the large variety of tools to make inspections quicker & easier than ever before.



Auto-Teach Inspection

The Auto-Teach Inspection is a smart tool that is able to distinguish between a defective & non-defective part after a set of non-defective parts is analyzed & recorded. Stable inspection is realized as the tool will automatically recognize variations that exist in the good parts. Any parts that are different from the learned "good" image data will be detected as defective. The auto-teach is programmed to account for even subtle color differences in the non-defective parts.



This utility also allows users to perform "additional learning" to widen the variable range allowed for non-defective workpieces. The new image data setting can be compared to pre-stored defective images during the additional learning function to prevent unnecessary changes that could cause improper inspection



Simple Point & Click Dimensions

CV-X100 high-precision measurements can be done quickly & easily through simple mouse operations, with no calculations required. Users simply choose the dimension they are looking for then draw a line on the top and left edges of the object. The lines are then calculated & the intersection is automatically detected.



User Manual Auto-Generator

The standard manual is too big & extensive making troubleshooting time consuming and difficult. With the new CV-X100 full featured PC software, users can auto generate a user manual customized to their own needs.

More from Packaging Products & Equipment