Machine Vision System completes test programs in 1 hr.
Press Release Summary: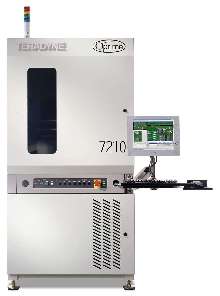 Optima 7210(TM) optical process test (OPT) system is designed for post-placement, inline defect detection, and process measurement. System utilizes built-in knowledge of SMD process and variation compensation. Based on Configural Recognition(TM) object recognition and image analysis technology, system provides non-contact testing with VARI-Smart(TM) image compensation software, which builds process knowledge and variation awareness into image analysis phase.
---
Original Press Release:

Teradyne Introduces Optima 7210(TM) Optical Process Test (OPT) System


Configural Recognition(TM) Object and Image-Analysis Technology Enables One-Hour Program Generation

ANAHEIM, Calif.--March 31, 2003--Teradyne's (NYSE: TER) Assembly Test Division, a global leader in electronics testing and production solutions, announced today at the APEX tradeshow the immediate availability of the ground-breaking Optima 7210(TM) optical process test (OPT) system for post-placement, inline defect detection and process measurement. This revolutionary machine vision system replaces user judgment with built-in knowledge of SMD process and variation compensation to enable the completion of production-ready test programs in as little as one hour, shortening manufacturing cycle-times, reducing time to first article validation, and improving outgoing prototype product quality.

Based on pioneering Configural Recognition(TM) object recognition and image analysis technology, the Optima 7210 OPT system delivers on the promise of machine vision, providing true non-contact testing with rapid programming, vast reductions in false flag rates, and the elimination of non-stop program maintenance required to resolve them. A component of this technology, Teradyne's VARI-Smart(TM) image compensation software builds process knowledge and variation awareness into the image analysis phase, automatically compensating for normal variations in PCBA manufacturing, and eliminating constant program modification.

"Configural Recognition object recognition and image analysis technology gives the Optima 7210 OPT system the flexibility to compensate for normal variation immediately, and provide coverage for rapid changeover lines and consigned lot manufacturing," said Dan Walsh, marketing product manager at Teradyne. "It has also proven to be an effective alternative for test in high-volume applications, where in-circuit test (ICT) is not possible or not economical."

The Optima 7210 OPT system is currently in use in a number of multi-system accounts operating for wireless, mobile phone, and NPI screening.

About the Optima 7210 optical process test (OPT) system

The Optima 7210 OPT system, powered by Configural Recognition object recognition and image analysis technology combines extraordinary performance and speed in a new category of machine vision system. It is fully capable of testing for placement defects, while providing in-line monitoring for process trends that indicate future defects.

System highlights include:

-- In-process measurement and defect detection for Wireless, RF, and NPI applications

-- Ideal measurement vehicle for PCBA manufacturers implementing 6-sigma SMD practices

-- Built-in compensation for normal PCBA and process variation during program and runtime

-- Internal SMD process knowledge displaces user judgment and skill requirements

-- Eliminates nonstop user program tweaking to maintain stability and coverage over time

-- Production-ready programs developed with as few as one PCB sample

-- Less than 20 ppm false flag/false accept rates readily achievable

-- In-process measurement of component placement function and performance

For more information on the Optima 7210 optical process test (OPT) system visit the Teradyne ATD Press Room at: teradyne.com/prods/cbt/pressroom/pressroom.html

Availability & Pricing:

The Optima 7210 optical process test (OPT) system is available now. Contact your local Teradyne representative for pricing.

About Teradyne

Teradyne (NYSE:TER) is the world's largest supplier of Automatic Test Equipment, and is also a leading supplier of interconnection systems. The company's products deliver competitive advantage to the world's leading semiconductor, electronics, automotive and network systems companies. In 2002, Teradyne had sales of $1.22 billion, and employed about 7,000 people worldwide. For more information, visit www.teradyne.com.

CONTACT: Teradyne, Assembly Test Division
Mark Stygles, 978/589-7425
mark.stygles@teradyne.com

or

Teradyne GmbH, Assembly Test Division
Renate Fritz, 49 89 4 18 61 132
renate.fritz@teradyne.com

More from Machinery & Machining Tools