Machine Vision Illuminators feature fan-free design.
Press Release Summary: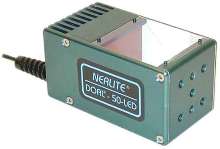 Series DOAL-50 V2 diffuse-on-axis, LED-based illuminators are available in red or white models with 12 or 24 V continuous and 24 V strobed power. Units are fan-free, allowing them to be used in environments, such as clean rooms, where airflow disruptions are not allowed. Anti-reflective cover protects optics from contamination and accidental damage. DOAL units are suited for applications that have flat specular surfaces requiring uniform lighting.
---
Original Press Release:

DOAL's Increased Performance Solves More Applications


...Up to twice the intensity of previous DOALs
...Fan-free design is quiet, reliable and clean room compatible
...Wide Choice of Color Spectrums

RVSI/NER, designers and manufacturers of NERLITE® Machine Vision Illumination products, is pleased to announce the new DOAL-50 "V2" (Version 2) Series of high-output, diffuse on-axis, LED based machine vision illuminators.

The DOAL-50 "V2" series offers the performance, features and options needed to assure broad application coverage:
o Light intensity has been doubled over that of previous DOALs (red LED models; others tbd)
o Fan-free design results in a quieter, more reliable unit suitable for environments where airflow disruptions are not allowed (e.g. clean rooms) and where air born dust penetration threatens the life of fan cooled devices
o Available with anti-reflective cover to protect optics from contaminants and accidental damage
o Available in red (630 nm) or white (6500 Kelvin) LED standard models (blue, green, IR, UV or other wavelengths available on request)
o Standard models available with 12 or 24 volt continuous and 24 volt strobed power
o 24 volt continuous "Flying Leads" power option simplifies integration in systems with 24 volt power taps for peripherals
o Strobe models support optional SAM-D Strobe Adapter (DVT p/n IN00-STROBE) for use with DVT Systems

The DOAL is designed for applications that have flat specular surfaces requiring uniform lighting. With the DOAL, light rays travel on the axis formed between the object and the camera's lens. Reflecting off a beam splitter in the DOAL's aperture, light rays are directed on to the object at nearly 90°. This lighting technique helps bring out surface textures, elevation changes and translucent features. As with all NERLITE products, DOALs feature fasteners that are installed to specific torques and thread-locked so as not to loosen when subjected to the vibrations common to many applications.

DOAL-50 "V2" Series products are available now from RVSI/NER distributors worldwide.

The product announcement kit (~ 620 KB compressed ZIP file) containing series data sheet, FAQ sheet, model part numbers and photographs can be downloaded from nerlite.com/news/rvsi-ner-doal-v2-series-pr.zip or requested from gregd@nerlite.com.

About RVSI/NER:
NER (formerly Northeast Robotics), a division of RVSI (NasdaqSC:ROBV), is the leading supplier of illumination solutions for machine vision and two-dimensional symbology to a broad range of industries including electronics, semiconductor, automotive, pharmaceutical, packaging, 2-D Symbology/OCR, mail-sorting, warehousing, printing, food & beverage, compact disc, and general manufacturing. The inventor of the Cloudy Day Illuminator(TM) and other solutions for challenging applications, NER is the first company to provide a wide range of illuminators created specifically for use in industrial imaging. NER holds over a dozen patents, with more pending, relating to illumination and imaging. For more information visit www.nerlite.com, call +1-603-529-2385 or send e'mail to info@nerlite.com.

About RVSI:
Robotic Vision Systems, Inc. (RVSI) (NasdaqSC:ROBV) has the most comprehensive line of machine vision systems available today. Headquartered in Nashua, New Hampshire, with offices worldwide, RVSI is the world leader in vision-based semiconductor inspection and Data Matrix-based unit-level traceability. Using leading-edge technology, RVSI joins vision-enabled process equipment, high-performance optics, lighting, and advanced hardware and software to assure product quality, identify and track parts, control manufacturing processes, and ultimately enhance profits for companies worldwide. Serving the semiconductor, electronics, aerospace, automotive, pharmaceutical and packaging industries, RVSI holds more than 100 patents in a broad range of technologies. For more information visit rvsi.com or call +1-800-669-5234.

More from Material Handling & Storage