Machine Vision Cameras offer resolutions to 1,600 x 1,200.
Press Release Summary: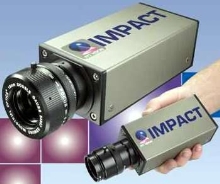 Featuring built-in full-scale vision image processing capabilities, IMPACT(TM) T26 utilizes 1,280 x 1,024 CMOS imager while T27 offers 1,600 x 1,200 CCD imager. Intelligent cameras contain microprocessor and real-time operating system, in addition to discrete, serial, and Ethernet I/O to make them compatible with industrial control equipment and instrumentation. Electronic components are contained within sealed industrial unit.
---
Original Press Release:

PPT VISION Introduces the Industry's Highest-Resolution Intelligent Cameras for Machine Vision


MINNEAPOLIS, July 20, 2005 -- PPT VISION, Inc. (Nasdaq: PPTV) today announced two new intelligent camera models, the IMPACT(TM) T26 and T27, the highest-resolution intelligent cameras available in the machine vision industry. The T26 and T27 are the latest additions to the IMPACT T-series, the industry's first intelligent cameras with full-scale vision image processing capabilities built into the camera, delivering a cost-effective alternative with all the features of a high-end vision inspection system.

"Both cameras are designed to give manufacturers greater accuracy and improved defect detection, compared to standard resolution vision systems," said Joe Christenson, President of PPT VISION, Inc. "The IMPACT T26 incorporates a 1280 X 1024 CMOS high resolution imager that provides an economical machine vision solution with all the features of a full-scale high-resolution system. The IMPACT T27 is the industry's highest resolution intelligent camera. With a 1600 X 1200 CCD imager, it's ideal for the most accurate and repeatable defect detection even at high production speeds," added Christenson.

In 2004, PPT introduced the IMPACT T-series intelligent camera family, the industry's first intelligent camera with all the features of a full scale-vision system. Early intelligent cameras did not have the image processing horsepower or feature set of full-scale vision systems and therefore could only be used for simple applications. With its broad family of product offerings, including high-resolution cameras, color cameras, micro-head models, and high performance software, IMPACT T-series family offers a cost effective solution for the toughest machine vision applications.

Each member of the IMPACT T-series family contains a high performance microprocessor and real-time operating system, plus a digital imaging sensor. The electronic components are contained into a sealed industrial unit which can be installed directly into assembly lines and manufacturing equipment. A broad array of discrete, serial, and Ethernet I/O make the IMPACT T-series compatible with a full spectrum of industrial control equipment and instrumentation.

Both of these new products are fully supported by PPT VISION's Inspection Builder software. Inspection Builder is a complete machine-vision application developers package using icon-based programming plus a broad range of inspection algorithms including pattern matching, blob analysis, sub-pixel gauging, character inspection and much more.

PPT VISION is offering a free tutorial on the use and benefits of smart cameras and machine vision software and On-line virtual demonstrations of the IMPACT Inspection Builder software are available at www.pptvision.com. To request additional information on IMPACT, call 952-996-9500 or e-mail info@pptvision.com

PPT VISION develops and markets innovative machine vision technologies including smart cameras and vision micro-systems for a broad range of industry categories, including manufacturers of automotive components, electronic components, pharmaceuticals, semiconductors, medical devices, consumer goods, and plastics.

PPT VISION's Common Stock trades on the Nasdaq Small Cap Market tier of The Nasdaq Stock Market under the symbol PPTV. For more information, go to www.pptvision.com. For more information contact: PPT VISION, 12988 Valley View Road, Eden Prairie, MN 55344. Phone: 952-996-9500. FAX: 952-996-9501. email:info@pptvision.com website: www.pptvision.com.

More from Machinery & Machining Tools