Machine Vision Cameras come with USB 2.0 interface.
Press Release Summary: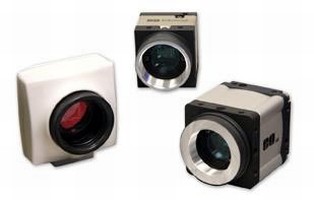 Including Harsh Environment (HE) and Lite Edition (LE) versions, EO family comes with software interface that allows users to set specified area of interest (AOI), gain, exposure time, frame rate, trigger delay, and digital output (flash) delay and duration. HE models come in sealed, rugged housing that meets IP 65 and IP 67 requirements, while LE models feature 41 x 41 x 25.4 mm plastic housing and weigh 32 g. Features include progressive-scan CMOS sensor and C-mount lens fittings.
---
Original Press Release:

Edmund Optics® Expanded USB Machine Vision Camera Line



Suitable for Harsh and Space Limited Environments

October 23, 2008, Barrington, NJ. Edmund Optics® announces the expansion of its USB 2.0 intelligent machine vision cameras line to include Harsh Environment (HE) and Lite Edition (LE) versions. The USB cameras feature ultra-compact housing, progressive scanning, adjustable frame rate, and a powerful, easy-to-use software interface.

The EO family of USB 2.0 cameras includes a software interface that allows users to set a specified Area of interest (AOI), gain, exposure time, frame rate, trigger delay and even digital output (flash) delay and duration. The camera software enables capturing of still images in JPEG and Bitmap file format or video in AVI format. Additionally the software can perform edge enhancement, image mirroring and image binning, in the vertical and horizontal directions, as well as hot pixel correction. Direct Show (WDM), ActiveX and TWAIN drivers as well as SDK documentation is included.

The HE (Harsh Environment) versions of the EO USB 2.0 cameras feature a sealed, rugged housing making the EO USB HE cameras suitable for harsh environments. The rugged housing also provides extra protection from electromagnetic interference (EMI). When used in conjunction with the optional lens tubes (max lens diameter=35mm), they meet the requirements of protection class IP 65 and IP 67 (protection from dust and water). The USB and the I/O signals are connected via two connectors, which comply with the same protection class (HE cameras utilize non-standard USB connectors). The HE cameras are well suited for use outside the typical lab and factory floor applications.

The LE (Lite Edition) EO USB 2.0 cameras offer an even more compact, economic design in a durable plastic housing. Each camera features a 41mm x 41mm x 25.4mm housing and weighs only 32g.

Board Level versions are also available and are well equipped for use in laboratories or OEM applications. Interchangeable lenses offer tremendous versatility for machine vision and inspection applications.

"The new cameras and versatile functions continue to provide designers with machine vision solutions that are easily adaptable to their application environments," stated Bruce Butkus, Product Liner engineer.

The EO family cameras are available in four resolution and speed combinations ranging from 752x480-pixel at 87 fps to 2560x1920-pixel at 6 fps. Lower resolution cameras are available in monochrome or color versions while the higher resolution cameras are color-only. Each camera in the family features a progressive-scan CMOS sensor, software-based exposure control, C-mount lens fittings, and a USB 2.0 interface. The cameras have the same 34x32x27.4-mm dimensions, allowing users to interchange cameras without system modifications.

Price and Availability

Prices for EO family cameras range from $675 to $1395. Ordering information for the EO camera family can be obtained by contacting sales@edmundoptics.com.

About EO:

Edmund Optics® (EO) is a leading producer of optics, imaging, and photonics technology. Supporting the R&D, electronics, semiconductor, pharmaceutical, biomedical, and military markets around the globe; EO products are used in a variety of applications ranging from DNA sequencing to retinal eye scanning to high-speed factory automation. EO's state of the art manufacturing capabilities combined with its global distribution network has earned it the position of the world's largest supplier of off-the-shelf optical components. Customers can purchase items by contacting EO at 1-800-363-1992, via the catalog, or via the website at www.edmundoptics.com.


More from Machinery & Machining Tools