Machine Vision Camera uses progressive scan technology.
Press Release Summary: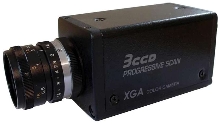 To eliminate image jitter, IK-TF7A incorporates three 1/3 in. progressive scan CCDs in co-site sampling arrangement, which results in picture accuracy at resolutions to 1024 x 768 with no RGB shift. Variable-speed, electronic, 9-step shutter operates from 1/100-1/100,000 sec. Camera features readout speeds to 90 fps in partial scan mode, 30 fps full pixel independent readout, and one RS-232C port for remote control of operating functions.
---
Original Press Release:

Toshiba Introduces 3CCD Machine Vision Camera With Progressive Scan Technology


IRVINE, CA, MARCH 15, 2005 ­ Toshiba Digital Solutions Division, a division of Toshiba America Information Systems, Inc. and a leader in advanced imaging technologies, today introduced its new IK-TF7A, a 3CCD machine vision camera optimized with progressive scan technology for on-line color inspection, testing, identification and measurement.

Ultra-compact and lightweight, the IK-TF7A merges a complement of cutting-edge features into a small form factor for designing into space-sensitive machine vision applications. The camera measures just 44mm x 44mm x 78mm (WxHxD), and weighs a mere 5.82 oz.

The IK-TF7A presents significant improvements over previous generation Toshiba cameras in the areas of speed, resolution and color intensity. It effectively eliminates image jitter through its incorporation of three 1/3-inch progressive scan CCDs. The co-site sampling arrangement of the CCDs means there is no RGB shift, so the capture of picture information is more accurate with higher resolution (1024x768). Color reproduction is enhanced thanks to its color shading correction feature.

To enable the accurate capture of fast moving color items under test, the camera features a variable speed electronic 9-step shutter ranging from 1/100th to 1/100,000th of a second, along with an advanced trigger function. In its partial scan mode, the IK-TF7A offers high-speed readout of up to 90 frames per second. Full pixel independent readout is 30 frames per second.

In addition, the camera features an RS-232C serial communications port (9600 or 19200 BAUD rate) to allow remote control of operating functions via a PC. Other highlights include automatic and manual white balance, 1-pulse or 2-pulse random triggers, asynchronous reset, and a clean signal-to-noise ratio of 60dB.

The C-Mount allows use of a wide variety of available lenses, including those used in microscopy applications.

For more information, visit www.cameras.toshiba.com.

About Toshiba America Information Systems, Inc. (TAIS) Headquartered in Irvine, Calif., TAIS is comprised of three divisions: Digital Products, Digital Solutions and Storage Device. Together, the three divisions provide mobile products and solutions, Internet access plans, communications, storage and imaging products and services. Products include industry-leading portable computers, projectors, DVD/CD recordable products and hard disk drives, telephony products, digital imaging systems, wireless solutions and services.

TAIS provides sales, marketing and services for its wide range of information products in the United States and Latin America. TAIS is an independently operated company owned by Toshiba America, Inc., a subsidiary of Toshiba Corporation, a world leader in high technology and integrated manufacturing of electrical and electronic components, products and systems. Toshiba has global sales of over $52 billion and more than 300 subsidiaries and affiliates worldwide. For more information, visit the company's Web site at www.toshiba.com.

®2005 Toshiba America Information Systems, Inc. All product names and trademarks belong to their respective owners. Information in press releases, including without limitation product prices, specifications, and contact information, is current on date of the release, and is subject to change without notice. Reseller prices may vary.