Machine Vision Camera captures 4096 x 3072 resolution images.
Press Release Summary: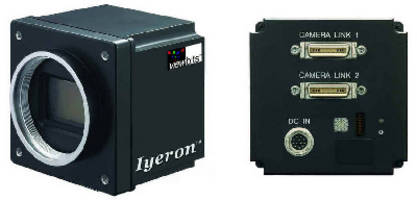 Featuring 1.9 in. CMOS monochrome progressive scan sensor, 12 megapixel Iyeron(TM) Camera offers HXGA 4,096 x 3,072 pixel resolution at full frame speed of 25 fps. Window of Interest mode can be programmed to display up to 28 square windows within one image and then allow user to select only certain windows to be read out. Equipped with Camera Link® interface, shock-resistant camera provides 6.0 x 6.0 µm pixels, 2,000 lx sensitivity, and 4:3 aspect ratio.
---
Original Press Release:

Viewbits Is Introducing a 12 Megapixel, 25 fps, Shock Resistant Machine Vision Camera That Rivals Line Scan Cameras in Capability



Viewbits Introduces 12 Megapixel, 25 Frames per Second, Machine Vision Camera for Inspection, Robotics, and Medical or Scientific Imaging

Compact Iyeron(TM) CMOS Monochrome Camera with Camera Link®

Captures Full Frame 4096 x 3072 Resolution Images at Usable Rates That Compete Strongly with Linescan Cameras

San Diego, CA -- Viewbits, the industrial cameras division of CMI, announced today that they are now shipping their new high speed, high resolution 12 megapixel CMOS machine vision camera. Iyeron(TM) is a compact shock-resistant camera with a 1.9-inch CMOS monochrome progressive scan sensor. The camera offers HXGA 4096 (H) x 3072 (V) pixel resolution at a full frame speed of 25 frames per second (fps). Until recently only linescan cameras offered such horizontal resolutions.

Iyeron features extremely high resolution and a high signal-to-noise ratio. It is designed for high speed video capture, factory automation, machine vision, robotics, military uses, and medical or scientific imaging.

The 12 megapixel camera's faster frame speed is possible via the programmable Window of Interest (WOI) partial scanning mode. WOI can be programmed to display up to 28 square windows within one image and then allow the user to select only certain windows to be read out.

The Camera Link® industry standard interface (10/8 bit) makes it easy to install the camera in new and existing systems.

"With 12 megapixels and a full-frame rate of 25 frames per second, the Iyeron delivers exceptionally sharp high resolution," noted Ray Asturias, Sales Engineer for Viewbits. "The Iyeron's strong shock resistance makes it ideal for manufacturing, motion analysis, and military applications."

The Iyeron camera also features high sensitivity of 2000 lx (F5.6), large square pixels (6.0 µm x 6.0 µm), a random trigger shutter, an electronic global shutter, a wide dynamic range (multi-slope), and a compact size of less than three inches wide.

Supplemental Information for Press Release

Features

o 1.9-inch CMOS monochrome progressive scan sensor

o High resolution and high speed

o 12 megapixel imaging

o Highly shock resistant

o Captures full frame images at speeds up to 25 frames per second

o 4096 (H) x 3072 (V) pixels

o View up to 28 Windows of Interest (WOI) at one time

o Video Input: LVDS

o Video Output: Camera Link® (Medium)

o Large square pixels (6.0 µm x 6.0 µm)

o 4:3 aspect ratio

o High sensitivity of 2000 lx (F5.6)

o Electronic global shutter

o Random trigger shutter

o Camera Link® interface (10/8 bit selectable)

o Low noise

o Compact size - less than three inches wide

Suggested Retail Price:

Iyeron(TM) - $10,995 U.S.

Viewbits and Iyeron are trademarks of Computer Modules, Inc.

All other trademarks and registered trademarks are the properties of their respective owners.

About CMI and Viewbits

CMI, founded in 1982, is a privately held company headquartered in San Diego, California. Viewbits, the Industrial Cameras division of Computer Modules, Inc., sells HD, USB-2, CMOS, and X-Ray cameras to companies throughout the world.

For more information on CMI and Viewbits, please contact Rebecca Gray at +1 (858) 613-1818 or rebecca@computermodules.com. To download Viewbits press releases and product images, visit the news section at www.viewbits.com.

Viewbits, 11409 West Bernardo Ct. San Diego, CA, 92127
Web: www.viewbits.com phone: +1 (858) 613-1818, fax: +1 (858) 613-1815

More from Laboratory and Research Supplies and Equipment