Machine Vision Appliance allows multiple-camera inspection.
Press Release Summary: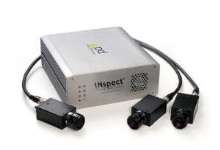 Based on NetSight II platform, iNspect is intended for applications that require multiple inspections based on independent views of same part, and can accommodate views and processing for up to 3 cameras. It features setup and monitoring via desktop interface, local display that allows user to view runtime images with measurement overlays, and disk space for history and local job storage. Remote monitoring of inspections is available across network.
---
Original Press Release:

ipd's New iNspect Machine Vision Appliance Provides Cost-Effective, Multiple-Camera Inspections


BILLERICA, MA (September 28, 2004) - ipd, the intelligent products division of Coreco Imaging, Inc., announces the release of iNspect, the newest product in the company's line of easy-to-use, pre-packaged Vision Appliances for industrial end users. Designed for applications that require multiple inspections based on independent views of the same part, iNspect provides a cost-effective, yet powerful, multi-camera machine vision solution. Like ipd's other Vision Appliances, iNspect is shipped with all required software, hardware, user interface, I/O controls and communications interfaces resident in the product.

"Requirements for part and product inspections continue to increase, both in the number of inspections performed throughout the manufacturing process and the level of detail needed to ensure the best possible quality," said Steve Geraghty, Director of ipd. "To address these requirements, iNspect incorporates the best of our existing Vision Appliances, along with a number of powerful new hardware and software-based features, to provide a highly advanced, multiple-camera inspection system at a price that is affordable for any manufacturer."

The first Vision Appliance based on ipd's powerful NetSight II platform, iNspect features several significant new hardware-based capabilities, including:
o The ability to accommodate views and processing for up to three cameras;
o Performance up to ten times that of comparable smart camera solutions;
o Setup and monitoring via a traditional desktop interface;
o Optional monitor access through a remote network interface (web browser or application);
o A local display that gives users the ability to view runtime images with measurement overlays;
o Ample disk space for history and local job storage.

iNspect provides a comprehensive toolset, including all of the tools from iGauge and iCheck. The product allows users to define custom inspection criteria and is capable of locating parts oriented in any position.

iNspect offers users several choices of interface. The primary setup and configuration interface is "desktop" style, while remote monitoring of inspections is available across a network using standard web browsers. Remote command inputs, such as solution changes for product switchovers, are also available. And, to increase operator ease of use, iNspect can run from a custom, user-defined Visual Basic front-end. Standard interface protocols, such as Modbus and Ethernet/IP, are available for communicating with devices on the factory floor. In addition, iNspect supports direct mapping of inspection results into several popular PLCs. For simple applications, iNspect's sophisticated internal I/O processor provides direct control of rejected products.

ipd's line of Vision Appliances also includes:
o iLabel - accurately checks the placement and quality of labels on bottles, boxes, cans and other packaged goods;
o iGauge - ideal for a range of applications requiring precise optical measurements, including point positions, lines, angles, hole diameter and roundness;
o iCheck - used for a variety of product verification and assembly applications, including: detecting missing or incorrect products in a package; verifying that caps and safety seals are in place; verifying the presence, number and size of holes or notches in machined parts; reading and verifying product barcodes; and detecting stains, cracks or deformities on a surface.

Pricing for iNspect starts at $3,995 for a single-camera solution. More information about ipd and its product offerings-including Vision Appliances, NetSight II(TM) pre-integrated vision systems and the Sherlock(TM) WindowsÃ' -based, "point-and-click" software environment-can be found on the company's web site, www.goipd.com.

About ipd
ipd's mission is simple: to provide robust, intelligent and easy-to-use machine vision solutions to improve quality throughout the manufacturing process. Headquartered in Billerica, MA, ipd manufactures pre-packaged solutions that combine proven technologies with practical interfaces for end users and systems integrators worldwide. ipd offers three product lines that simplify machine vision tasks: user-friendly vision appliances, the proven Sherlock software environment and the NetSight II pre-integrated machine vision system. ipd is a wholly owned subsidiary of Coreco Imaging (St. Laurent, Canada), a leader in the design and development of hardware and software for high-performance computer vision applications.

Related