Machine Tool performs multiple machining processes.
Press Release Summary: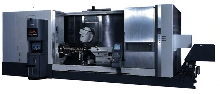 Multi-Tasking Integrex e-650H performs turning, milling, drilling, deep-hole boring, and gear hobbing. It has B, C, X, Y, and Z axes, Mazatrol Fusion 640M Pro CNC system, and E-mail communication via cell phone between machine and off-site personnel. The e-Tower function and electronic communication tools provide scheduling and production status plus verbal messaging and blind-spot monitoring with camera sending images to Fusion control screen.
---
Original Press Release:
Mazak Introduces a New Generation of the Multi-Tasking Integrex e-650H, a High-Powered Machine Ideal for Long and Large Shaft Workpieces

(Florence, KY) Mazak's all new Integrex e-650H is a unique and powerful multi-tasking machine capable of more than a turning center and a machining center combined. The Integrex e-650H performs all possible machining processes including turning, milling and drilling, plus deep-hole boring and gear hobbing. The Integrex e-650H is one of Mazak's new "e" machines, which feature electronic communication tools for integrated production management functions such as work scheduling and monitoring of production and machine status along with machine operation functions such as maintenance and machine alarm communication and multi-media troubleshooting and operating manuals. These abilities allow the e-650H to be used independently as a small machine shop or integrated into an advanced Cyber Factory.

The Integrex e-650H has a powerful milling spindle with B-axis, C-axis and X, Y and Z-axes. All machine axes utilize linear guides for high rigidity multi-task machining performed at high speed. Boring bars up to 39" long can be automatically supplied from the boring bar stocker and mounted on the B-axis machine turret.

In addition to 3 orthogonal axes (X, Y and Z), the turning spindle, which has C-axis capability and the optional 2nd turning spindle, enlarges the range of multi-tasking machining capability and allows completion of operations on the "backside" of the workpiece. The X & Y axes actually have a machining center design, with strokes of 40.3" and 25.6" respectively. Z-axis travel is a long 82.9".(Options take this length to 122.9" & 162.9"). These strokes offer great flexibility of part type. The large Y-axis stroke is the same size as found on machining centers. As a result it creates an extremely generous machining envelope.

The 60 HP main turning spindle, with full C-axis, operates up to 1,600 RPM and delivers 3,300 ft-lbs of torque with the standard spindle bore of 6.69". A 10.24" spindle bore with 4,662 ft-lbs. of torque is available as an option. With a 24" chuck, the maximum turning diameter is 36".

The B-axis, which has 240° travel range, not only positions in 0.0001° increments, but also performs full 5-axis contouring. Now with a 10,000 RPM, 50 HP permanent magnet milling spindle, large, extremely complex parts can be machined in one setup. High spindle torque of 339 ft/lbs. puts this into the tough material aerospace machine shops.

The Integrex e-650H has the new Mazatrol Fusion 640M Pro CNC system as standard equipment. With the conversational Mazatrol programming system, all of the complex programming of milling, drilling and tapping are now programmed in the same manner as a machining center.

The main feature of the Integrex e-650H is the introduction of the e-Tower. The unique e-Tower has scheduling and production status but also offers verbal messaging and blind-spot monitoring with a camera sending the images to the Fusion control screen. E-mail communication through a cell phone link between the machine and off-site personnel allows instant notification of production status or machine alarm occurrence.

Mazak is a world leader in machine tool technology. From advanced multi-tasking machine tools, vertical and horizontal machining centers and turning centers to fully automated Palletech Manufacturing Cells and PC based CNC controllers, Mazak stresses its engineering developments to provide our customers tangible value-added benefits and the most productive machine tools available. Application assistance available from ten regional Mazak Tech. Centers. For more information, contact the Mazak Corporation at (859) 342-1700 or visit the Mazak website at www.mazak.com.

More from Fluid & Gas Flow Equipment