Machine Screw Jacks have all metric dimensions.
Press Release Summary: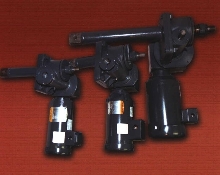 Metric Machine Screw Jacks consist of 10, 25, 50, and 100 Kilonewton jacks, which are roughly equivalent to 1, 2 1/2, 5, and 10 metric tons. Upright or inverted, jacks operate at full capacity whether load is in tension or compression. Units feature heat treated alloy steel worm shafts, aluminum/bronze worm gears, and tapered or ball bearings. They are offered in translating screw and keyed designs. All can be fitted with protective boot.
---
Original Press Release:
Joyce/Dayton Introduces Metric Machine Screw Jacks

DAYTON, Ohio (July 18, 2002) - Joyce/Dayton Corporation today announced the availability of a new metric line of products. The Joyce/Dayton Metric Machine Screw Jack line of products includes 10, 25, 50 and 100 Kilonewton jacks, which are roughly equivalent to 1, 2 1/2, 5 and 10 metric tons.

All external dimensions on the Joyce metric jacks are metric, as well as the lifting screw and all external fasteners. These models will be particularly useful for North American OEMs that serve European and other overseas customers.

Upright or inverted, Joyce's precision jacks operate at full capacity whether the load is in tension or compression. Heat treated alloy steel worm shafts, aluminum/bronze worm gears and tapered roller or ball bearings provide rugged reliability.

Joyce Metric Machine Screw Jacks come in translating screw and keyed designs. All jacks can be fitted with a protective boot. In addition, Joyce/Dayton will custom design jacks to meet special requirements.

Since 1873, the Joyce/Dayton Corp., with headquarters based in Dayton, Ohio, has been one of the premier manufacturers of rugged, heavy-duty mechanical and hydraulic lifting and positioning equipment. From leveling log homes and ship dry-dock transfers to stage and ergonomic lifts, Joyce/Dayton has handled the toughest applications imaginable. With unmatched engineering and technical expertise, Joyce can provide custom solutions in a time- and price-sensitive manner turning ideas into working solutions. For more information about the Joyce/Dayton Corp., visit the company's web site at www.joycedayton.com.

JOYCE/DAYTON CORP.

P.O. Box 1630

Dayton, Ohio 45401-1630

Phone (937) 294-6261

Corporate Fax (937) 297-7173

LED Fax (937) 294-7631

www.joycedayton.com

Designers and Builders of Lifting Equipment Since 1873

Joyce Jacks; Joyce Lifts; Joyce Materalifts
Related