Machine performs fixed and sliding headstock turning.
Press Release Summary: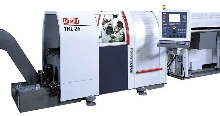 TRAUB series TNL is suited for long, sliding headstock Swiss-type turning, while series TNL-K is suited for short, fixed headstock screw machine type turning. Model TNL26 is offered with two 12-station turrets, 5-station end-working tool carrier, heavy-duty counter-spindle, and 5-station back-working tool carrier. Z-axis travel is ~10 in. on L-version and 4 in. on K-version. Tooling and other workpiece accessories are fully interchangeable between machines.
---
Original Press Release:

Revolutionary Turning Machine Concept for Small Turned Parts: Fixed and Sliding Headstock Machines in One Machine


INDEX Corporation will demonstrate its TRAUB TNL26 sliding headstock machine at the Precision Machining Technology Show (PMTS) Columbus, OH, May 3-5, 2005, Booth #700. The TRAUB TNL12/ 26/ K series machines offer the advantages of both fixed and sliding headstock turning processes in the same machine design concept.

The new machine design saves the user set up time, material cost, and capital cost while providing high-precision Swiss-type and screw machine type turning capability in a single machine.

Typically, sliding headstock, also called Swiss-type machines, were used for production of small parts; the manufacturer of smaller, shorter turned parts had to go to a lathe-type machine, if he did not want to work with the conventional Swiss guide bushing concept, which generally requires higher precision bar stock, more set up time, and leaves the user with a long bar remnant.

The machines are based on a building block concept, allowing the user to configure the machine exactly to his requirement. In the TRAUB TNL and TNL- K series machines, TNL stands for long/sliding headstock Swiss-type turning, and TNL-K for short, fixed headstock screw machine type turning machines.

The TNL26 model on display is available with two 12-station turrets (Y-axis optional on both turrets), a 5-station end-working tool carrier, a heavy duty counter-spindle, and a 5- station back-working tool carrier; the max. Z-axis travel is approx. 10 in. on the L- version and 4 in. on the K- version. The maximum number of fixed tools is approx. 58; of these 32 can be live tools.

The 4 Main Benefits of the TNL/ K Concept

1. 12-station tool turret concept offers a high tool capacity in the machine, including one live tool in each turret station. The high-speed indexing of the turrets throws chips away from the tools. This is an important advantage when machining tough materials such as stainless steel and titanium, and is just one reason the machine is well-suited to medical parts. The turrets also permit mounting more than one thread-whirling attachment, allowing the whirling of different thread sizes.

2. High-horsepower main-spindle, counter-spindle, and live tool drive. Both the main and the counter-spindle offer the same high horsepower: up to 4.0KW/ 5.2 HP on the TNL12, and on the TNL26 up to 10.7KW/ 14.6 HP. Live tools drives are up to 1.5KW/ 2.0 HP on the TNL12 and 5.5KW/8.0 HP on the TNL26. This power is important when machining tough materials, a typical requirement for medical parts machining.

3. Up to 4 tools in cut simultaneously, resulting in higher production rates. The design of the work tool-carrier and axis drive arrangement allows the coupling of a second or third tool-carrier (slave axis) to the first, permitting engagement of more than one tool in cut at the same time. Turret two position can be overlapped with turret one because it has an additional Z-axis allowing it to follow turret one. The same holds true for the front working tools, which can also be overlapped, because they also follow turret one. The counter-spindle and the back-working station have independent Z- and X-axes, so that the backwork operation can also be overlapped with the three tools in cut on the main-spindle, for a total of four.

4. Sliding- and fixed headstock machines from the same building block concept allow full interchangeability of all tooling and other workpiece- related accessories between sliding and fixed headstock machines of the same model size. Programming and operation will also be the same.

For more information please contact:
John Wilder, North American Sales Manager, or Brenda Cooley, Sales & Marketing
INDEX Corporation
14700 North Pointe Boulevard
Noblesville, IN 46060
Phone: 317 770 6300 Fax: 317 770 3166
e-mail: sales@index-usa.com www.index-usa.com

More from Architectural & Civil Engineering Products