Machine-Leveling Shim adjusts in tiny increments.
Press Release Summary: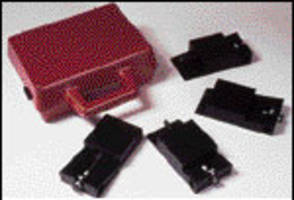 Adjustable MicroShim for machine leveling, positioning, and mounting, provides height increments of 0.001 in. over range of 1.0 in. Pair of overlapping wedge plates, with machined surfaces, permit plates to slide parallel to one another. Stainless steel bolt and bar-nut assembly allows user to adjust relative position of plates and set desired height. Shims can be permanently locked into place using bonding agent. Lifting capacity is 10,000 lb.
---
Original Press Release:
New Pinpoint Adjustable MicroShim
Newburyport, Massachusetts, July 2002: Pinpoint Laser Systems is introducing the unique, new, adjustable MicroShim for precision machine leveling, positioning, and mounting applications. This newest shim design provides many height positions in increments of 0.001 inch over a range of 1.0 inch for supporting machinery and equipment, while providing high load-bearing capacity. The MicroShim is adjustable, allowing the users to reposition their machinery at any time, or it can be permanently locked into place using a special bonding agent. Initial response from machine shops, paper and steel mills, and millwrights has been very positive. The MicroShim consists of a pair of overlapping wedge plates with machined surfaces that permit the plates to slide parallel to one another. A stainless steel bolt and bar nut assembly allows the user to adjust the relative position of the two overriding plates and set the desired height. Shim adjustments of 0.001 inch are made by tightening or loosening the adjustment screw until the MicroShim has reached the desired height. A hard, anodized coating that provides smooth travel protects the components of this unique, new, shim product. The MicroShim eliminates the need to machine large spacer blocks and mounting pads that are required for supporting traditional shim products. The need to lift machinery, in order to slip shims into place, is eliminated because the MicroShim has a lifting capacity of 10,000 pounds. Adding a special, two-part bonding agent between the overriding plates of the MicroShim enables the user to adjust the shim before it forms a permanent mounting. The MicroShim is compact, durable, simple to use, and reliable. Available in many sizes, the MicroShim is designed to fit a wide variety of shim and mounting needs on the factory floor. Four MicroShims are shipped in a compact, handy tool box with instructions and a complete warranty. MicroShim is manufactured and distributed by Pinpoint Laser Systems and is available through distributors throughout the United States and Canada. For additional information, call Pinpoint at 1-800-757-5383 or check out our website at www.pinlaser.com.
More from Electronic Components & Devices