Polytetrafluoroethylene (PTFE)
Machinable PTFE Materials enhance engineering flexibility.
Press Release Summary: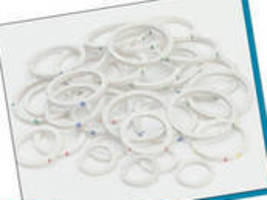 Fluorosint® HPV offers optimized bearing performance (PV) that results in parts that can withstand higher loads and velocities, while its wear resistance (K factor) lends to extended wear life. Combining higher temperature resistance with low de-formation and low coefficient of linear thermal expansion, extreme grade of Fluorosint MT-01 provides engineers with design options for instances where compliance of PTFE needs to be balanced with precise control.
---
Original Press Release:

Engineers Get New Options with Expanded Fluorosint® Product Family for High Performance Seals and Wear Parts



Four Grades of Machinable Fluorosint® Enhanced PTFE Outperform Competitive Materials in the Market

(Reading, PA, July 31, 2009) - Engineers and designers have long recognized the performance benefits associated with Quadrant's venerable Fluorosint 500 and Fluorosint 207 enhanced PTFE materials. Fluorosint 500 is widely used for seals, shrouds and bearings in the world's most sophisticated rotating equipment. FDA-compliant Fluorosint 207 is specified for seals, scrapers and wear surfaces in food processing and production equipment around the world.

The exciting additions to this product family are the "super" wear-resistant grade of Fluorosint HPV, now available in full production size ranges and the "extreme" grade of Fluorosint MT-01, new to the market.

Fluorosint HPV was first discussed in 2007 and offered only in developmental sizes and shapes. This full launch brings with it a battery of data validating its performance advantage over many of the lower performing PTFE materials used today. This testing found the bearing performance or "PV" of Fluorosint HPV to be more than 40% higher than other FDA compliant PTFE-based materials. This results in parts that can withstand higher load and higher velocity. In addition, the wear resistance or "K factor" was found to provide longer wear life than other existing FDA compliant PTFE-based materials. Simply, parts machined from Fluorosint HPV last longer than those made from many of the filled-PTFE materials on the market today. This testing was gen-erated in one of Quadrant's own research laboratories using documented test procedures. Fluorosint HPV is ideal for applications such as dynamic seals and bearings where lubrication isn't preferred or possible. Fluorosint HPV can replace bronze, steel and powdered metal parts and provide performance gains in wear life and system performance.

Fluorosint MT-01 is a unique material that combines higher temperature resistance with low de-formation and low CLTE (Coefficient of Linear Thermal Expansion). This combination provides engineers with design options where the compliance of PTFE needs to be balanced with precise control - even at elevated temperatures. Fluorosint MT-01 was developed for higher tempera-ture applications such as bearings, seals and wear surfaces where higher loads are present. Ovens, dryers and linear positioning equipment exposed to elevated temperatures are all ideal applications for this ultra-performance grade.

Quadrant offers these materials in a wide range of rods, sheets and tubular shapes for machin-ing. Formed parts are also possible. To learn more about Fluorosint, visit Quadrant's website at www.quadrantepp.com and download the brand new Fluorosint Family of Advanced PTFE Materials brochure.

About Quadrant EPP

Quadrant EPP's products range from UHMW polyethylene, nylon and acetal to ultra-high per-formance polymers that resist temperatures to over 800 °F (425 °C). The company's products are used for machined parts in food processing and packaging, semiconductor manufacturing, aerospace, electronics, chemical processing, life sciences, power generation and diverse indus-trial equipment. Quadrant EPP's products are supported by a global team of application devel-opment and technical service engineers.

Full support in evaluating designs and production of parts is available from Quadrant Engineer-ing Plastic Products' Technical Support Group. Learn more about Quadrant at www.quadrantepp.com.

Acetron, CleanStat, Duraspin, Duratron, Erta, Ertalyte, Ertalene, Ertalon, Extreme Materials, Fluorosint, Ketron, MC, Monocast, Nylatron, Nylasteel, Polypenco, Proteus, Sanalite, Semitron, Techtron, TIVAR and Vibratuf are registered trademarks of the Quadrant group of companies.