M2M Telemetry System offers out-of-the box functionality.
Press Release Summary: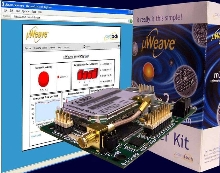 Comprised of central web-based management application, remote GSM/GPRS Gateway module, and M2M services, µWEAVE enables companies to monitor, control, and manage network of remote equipment via Internet and lets OEMs build wireless telemetry solutions tailored to business. M2M software offers network administration, communication, centralized database storage, alarm processing, notification, reporting, control, and optimization of remote, mobile, and fixed assets.
---
Original Press Release:

'Out of the Box' M2M Telemetry System Released by Comtech


o Enables companies to monitor, control and manage remote machines via the Internet

o A platform comprising intelligent GSM/GPRS gateway, web-based management and services

o Enables OEM's and VAR's to deliver managed services in their chosen markets

Comtech Holdings Ltd (www.comtechm2m.com), the leading Machine-to-Machine (M2M) Solution Enabler, today announce the release of the µWEAVE M2M telemetry system. µWEAVE is an "out of the box" M2M telemetry solution enabling companies to monitor, control and manage their network of remote equipment via the Internet. Consider any type of equipment deployed at remote locations where onsite management or network access is not feasible. µWEAVE enables companies to centrally manage these in order to remove dependencies on the end customer for network access and third parties for manual data collection.

The µWEAVE M2M telemetry system comprises of a central web-based management application, remote GSM/GPRS Gateway module and M2M services. It is a generic platform enabling Original Equipment Manufacturer's (OEMs) and Value Added Resellers (VARs) across diverse markets to build wireless telemetry solutions tailored to their business. µWEAVE is released in conjunction with a service-based business model enabling OEM's and VAR's to deliver managed services in their chosen markets. It provides a swift route to delivering business value through reduced costs, increased revenues and an increased customer service. Proof of concept is achieved "out of the box" with system deployment in weeks rather than years.

M2M telemetry hardware

The µWEAVE Gateway module is an embedded remote monitoring device that logs data from remote machines and delivers it to the µWEAVE monitoring application via GSM/GPRS and the Internet. A simple serial AT-command interface is supported enabling any machine or device to be monitored.

M2M telemetry software

µWEAVE software is an M2M telemetry platform enabling companies to build their own central management application for monitoring remote machines and devices via the Internet. It provides elements that are common to many M2M telemetry systems and a toolset to configure the system for company's application needs rather than developing their own application. µWEAVE offers network administration, communication, centralised database storage, alarm processing, notification, reporting, control and optimisation of remote, mobile and fixed assets.

M2M telemetry services

µWEAVE is offered as a managed service, hosted on Comtech's IT infrastructure. This enables OEM's and VAR's to easily offer onward managed services to their customers through the value they add at the application and business level.

Machines largely remain "unconnected", where data collection is often manual as a result of call-out or scheduled site visits. Although collected data may ultimately populate a back office system or server based application, it is a slow process making it difficult to make business decisions. The solution lies with automated data collection from remote machines through M2M telemetry. Information can be derived from any remote device to help resolve problems within the business. However, M2M adoption is susceptible to failure when the business case is not fully understood and the Return-On-Investment (ROI) cannot be demonstrated in the short term (6 - 18 months: source e-principles).

"Companies no longer need to develop connectivity solutions which are often outside their core competencies, nor do they need to systems integrate communication building blocks to create a complete solution", said Steve Whitehead, Technical Director, Comtech Holdings Ltd. "µWEAVE provides rapid time to market and fast ROI, enabling companies to focus on their core business rather than the underlying technology."

Solution Example - Temperature Monitoring System

Assets such as food and medical supplies need to be maintained in a temperature controlled environment to prevent losses and damage. Due to the high value of assets and potential health risks, storage temperatures need to be monitored and recorded at several points throughout the day. µWEAVE offers an automated solution for gathering and reporting temperatures online and providing notification of alarms by E-mail or SMS, such that problems can be resolved before damage is incurred.

Applications

Through the use of templates and naming aliases, µWEAVE can be rapidly configured for diverse applications such as HVAC, refrigeration, escalators, elevators, industrial automation, condition monitoring, vending, gaming, security, environmental monitoring, utilities, office business systems, ticket machines, domestic appliances and many more.

Development Tools

This launch is complemented with the release of a development Starter Kit to simplify evaluation and aid design integration. It provides everything needed to evaluate and adopt the end-to-end system "out of the box".

About Comtech Holdings Ltd

Comtech Holdings Ltd., www.comtechm2m.com, Bolton, UK, enables companies to remotely monitor and control their equipment via the Internet. The company provides GSM, GPRS, PSTN modems and routers, Web-based central management applications and specialised M2M services enabling companies to build an end-to-end automated system. Solutions are suited to many diverse markets with complete solutions available for the wireless display messaging market.

Contacts

Steve Whitehead

Comtech Holdings Ltd, Comtech House, 28 Manchester Road, Westhoughton, Bolton, Lancashire, BL5 3QJ, UK

Web: www.comtechm2m.com , Email: sales@comtechm2m.com , Tel: +44 (0) 1942 851800, Fax: +44 (0) 1942 851808

More from Agricultural & Farming Products