M2M Deployable System operates from -40 to +85°C.
Press Release Summary: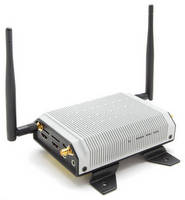 Intended for factory and smart building automation applications, Kontron KM2M806XT comes with application-ready middleware and supports Machine-to-Machine (M2M) digital device connectivity directly out of the box. Solution comes in cast aluminum case with thermal management capabilities and is based on 600 MHz Intel® Atom(TM) CPU. Modular design includes carrier board, A/V board, Kontron COM Express® mini Computer-on-Module, optional expansion board, and Wind River M2M SDK.
---
Original Press Release:

Kontron Announces Deployable Industrial Temp-Rated Platform for Smart M2M Applications



New system meets service providers' need for solutions with integrated application-ready middleware and digital device connectivity enabling quick time-to-market

Eching, Germany - Kontron today announced the availability of its Machine-to-Machine (M2M) deployable system, the Kontron KM2M806XT. Adding to the company's existing portfolio of M2M smart services embedded-connected devices, Kontron's new ready-to-deploy hardware platform matches the requirements of M2M applications that must operate in extended temperatures and industrial environments. The Kontron KM2M806XT comes complete with application-ready middleware and supports M2M digital device connectivity right out of the box. An optimal platform specifically for factory and smart building automation applications, Kontron's new M2M system is industrial temp rated (-40 to +85 °C) and includes a cast aluminium case with thermal management capabilities needed for operation under extended temperature conditions.

"The market for M2M solutions demands accelerated launch schedules, which facilitate the need for simplified and deployment-ready platforms," said Kevin Rhoads, Vice President, Embedded Products Business Unit, Kontron. "Working with a highly knowledgeable and experienced ecosystem of partners, Kontron is able to provide a proven, complete and ready-to-deploy platform that allows service providers to simply add their application and connect securely to a digital device cloud."

The new industrial temperature Kontron M2M system KM2M806XT is based on the Intel® Atom(TM) processor architecture. The device is designed with a modular approach, which includes a carrier board, audio/video board, a Kontron COM Express® mini Computer-on-Module (Kontron COMe-mTT10), an optional expansion board along with a M2M software development kit from Wind River. The modular approach enables a simple and cost efficient tailoring to specific application needs. So even specific interface demands or processor requirements can easily be integrated, which reduces time-to-market and TCO. The device Kontron's established relationships with market-leading ecosystem partners and long-term experience working with communications service providers ensures that its latest M2M portfolio addition delivers the elements required of smart embedded connected device including security and manageability.

The features in detail
The Kontron KM2M806XT is based on the Intel® Atom(TM) 600 MHZ processor. The external USB port simplifies use of M2M SDKs provided by M2M ISVs. Sufficient storage is provided for M2M smart service applications, middleware and OS on the 4GB internal MicroSD card. The built-in accelerometer, dual HDMI and HD audio support enables designers to implement both movement tracking and intensive audio/video smart services features. The Kontron KM2M806XT supports 802.11 b/g/n at 2.4 GHz band and 5 GHz band for 802.11a. An integrated 802.15.4 WPAN transceiver flexibly supports a wide range of protocols and network topologies, such as 6LoPAN, Wireless HART, ZigBee® and others, using a unique 802.15.4 MAC layer interface. The Kontron M2M System KM2M806XT also includes driver support for pre-certified cellular modules that can be pre-installed. Other pre-certified 3G/4G modules and drivers will be added to the Kontron M2M System for additional connectivity development.

To showcase the capabilities of its M2M product lines, Kontron will be exhibiting at two upcoming tradeshows: Mobile World Congress, February 27 - March 2 in Barcelona, Spain (Hall 2.0, Booth 2A28 ), and the Embedded World Conference, February 28 - March 3, 2012 in Nuremburg, Germany (Hall 1, Booth 460). Kontron's Embedded World booth will feature Kontron's smart building demonstration.

For more information on the Kontron M2M system KM2M806XT, please visit:
http://www.kontron.com/products/systems+and+platforms/m2m/km2m806xt.html

For more information on all Kontron's M2M products and services, please visit:
www.kontron.com/M2M

About Kontron
Kontron is a global leader in embedded computing technology. With more than 30% of its employees in Research and Development, Kontron creates many of the standards that drive the world's embedded computing platforms. Kontron's product longevity, local engineering and support, and value-added services, helps create a sustainable and viable embedded solution for OEMs and system integrators. Kontron works closely with its customers on their embedded application-ready platforms and custom solutions, enabling them to focus on their core competencies. The result is an accelerated time-to-market, reduced total-cost-of-ownership and an improved overall application with leading-edge, highly-reliable embedded technology.

Kontron is listed on the German TecDAX stock exchange under the symbol "KBC". For more information, please visit: http://www.kontron.com/

Digital text (PDF) and image (jpg) online: http://www.kontron.com/about-kontron/news-events/kontron+announces+deployable+industrial+temprated+platform+for+smart+m2m+applications.5608.html

Richard Pugnier
Kontron
Tel:+1 (858) 623-3006
richard.pugnier@us.kontron.com

Annette Keller
Keller Communications
Tel:+1 (949) 640-4811
annettekeller@sbcglobal.net