M12 S- and T Coded Connectors offer low contact resistance.
Press Release Summary: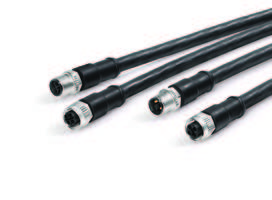 Available in S-, T-Coded version for DC power in 2m and 5m lengths, M12 Cordsets are designed with PUR cable material. Providing protection from liquid and debris, units are rated to IP67 standards. Featuring gold plated contacts, S-code and T- code connectors are rated to 630 V AC and 63 V DC respectively and current rating of 12 amps per contact.
---
Original Press Release:
New M12 S- & T- Coded Overmolded Power Cable Connectors
Binder has introduced a new line of M12 S- and T-coded connectors to now include overmolded cable solutions. The cordsets are premolded and ready to be assembled onto any application. The M12 power connectors are commonly used for industrial networks in process and manufacturing automation.
These cordsets are designed using PUR cable material and are available in 2 meter and 5 meter solutions. They are available in two power versions; the S-Coded version for AC power and the T-Coded version for DC power.
The overmolded cordsets are IP67 rated ensuring protection from liquids and debris while the gold plated contacts provide low contact resistance. The connectors are rated up to 630 V AC for the S-code and 63 V DC for the T-code and 12 amps per contact.
For more information on the new Binder power flange receptacles, visit www.binder-connector.us or contact binder USA, 3903 Calle Tecate, Camarillo, CA 93012, e-mail: sales@binder-connector.us, telephone: 1-805-437-9925, fax: 805-504-9656.
About binder USA
Binder-USA, LP is a subsidiary of Franz Binder GmbH & Co., a German-based designer and manufacturer of circular connectors and cordsets for use in industrial environments including factory automation, process control, and medical technology applications.
Marketing Contact:
Greg Harter
Binder-USA, LP
805.437.9925
More from Agricultural & Farming Products