M12 PushPull Solutions feature side cable exit.
Press Release Summary: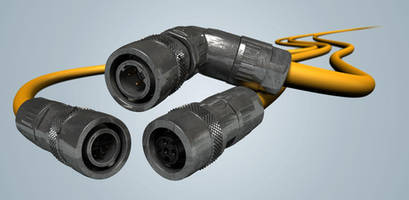 M12 PushPull Variant Solutions come in new housing shapes and female versions. Units offer reverse compatibility with the tried and true screw locking. Product's coding are available in an angled housing form. Solutions come with flange sockets.
---
Original Press Release:
New M12 PushPull Variants Address Space-Saving Demands for Train Communication
As the railway sector and rail transport markets continue to grow, trains are being equipped with even more modern information technology resulting in more communication components. HARTING offers space-saving M12 solutions to meet the industry's demands.
Whether long-distance trains or trams, technology aboard rolling stock is advancing globally and becoming increasingly complex. More and more systems are housed in the locomotives and carriages, and they need to be wired. Data volumes are rising as a result of in-house technology, as well as information systems and entertainment media for travelers.
HARTING is meeting these requirements, and the company has developed new versions of the M12 PushPull. Until now, the M12 PushPull was only offered in a straight version with A, D and X coding, with only the male versions available on the market. HARTING has now rounded out this special connector solution with new housing shapes and female versions.
In keeping with these additions, there is also a device-side flange socket. Like all new HARTING M12 flange sockets, it is suitable for the M12 PushPull but offers the additional benefit reverse compatibility with the tried and true screw locking.
In order to alleviate the tight conditions aboard trains where space is at a premium, all M12 PushPull codings are available in an angled housing form. Side cable exit reduces the distance from the housing door to any switches. Any space savings achievable on board rail vehicles are significant.
About HARTING
The HARTING Technology Group, family owned and based in Germany, employs more than 4,300 people globally with subsidiaries and branch offices in 40 countries. With production facilities in Europe, Asia, Mexico and the United States, the HARTING portfolio of connectivity solutions focuses on multiple levels, from the machine to the device and into the communication infrastructure. The U.S. facility in Elgin, Illinois is one of three HARTING locations that manufactures the HIS product line (HARTING Integrated Solutions - backplanes) and custom cable assemblies. HARTING also has custom cable assembly capabilities in Mexico and Brazil. The company's core business is intelligent and high-performance connection technology. HARTING works in almost all industrial markets with a focus on requirements for robust, reliable connectivity solutions.
Contact:
Christina Chatfield,
Vice President of Digital Strategy and Marketing Communication
HARTING North America
1370 Bowes Road
Elgin, IL 60123, USA
+1 (847) 717-9217
christina.chatfield@HARTING.com
More from HVAC