M12 Circulator Connectors is available with screw locking.
Press Release Summary: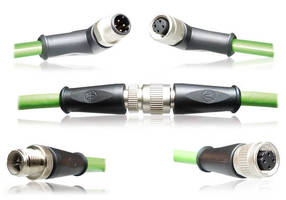 With IP68 protection and meeting quality standards for secure contacting, Y-Circ® M series includes A, B, and D connectors in straight and angled form compliant with IEC 61076-2-101. Capability for individual configuration of 360° shielding and vibration protection allows optimum performance ratio regardless of end-user requirements. This modular system is suited for applications in industrial environments.
---
Original Press Release:

New M12 Circular Connector with Screw Locking: Y-Circ® M



Munich – Yamaichi Electronics presents a new series of M12 circulator connectors.



As an experienced manufacturer of connector systems, Yamaichi Electronics Deutschland GmbH has developed a new M12 circular connector series: Y-Circ® M.



At Electronica 2014, Yamaichi Electronics presented new M12 connectors in different variants and codings. The Y-Circ® M series includes A, B, and D connectors in straight and angled form compliant with IEC 61076-2-101. A special feature is the modular system that permits the individual configuration of 360° shielding and vibration protection. That permits an optimum price/performance ratio no matter what the customer's requirements.



The product series is continually being extended, expanding the options for combination with existing product series such as Y-Con® (RJ45) and Y-Circ P® (push-pull).



To permit fast, flexible production, the connector series will also be produced by Yamaichi Electronics in Germany. This location has been active for years in the area of cable configuration and the production of connectors.



In addition to the A, B, and D coding, there is also an IEC 61076-2-109-compliant X-coded connector currently in the process of approval. This variant will permit the interference-free transmission of CAT6A signals. This underscores the competence of Yamaichi Electronics in the design and production of high-speed connectors.



All connectors are IP68 protected and meet the strictest of quality standards for secure contacting. This is particularly vital for demanding applications in industrial environments.



Matthias Schuster, product manager for the complete Y-Circ P product family at Yamaichi Electronics, explains: "Y-Circ M is an expansion of our circular connector series and makes it possible for Yamaichi Electronics to manufacture very cost-effectively convertor cable assemblies from M12 to RJ45 so frequently required by industry. This backward integration is the basis for future growth and a guarantee for short delivery times at competitive prices for products made in Germany."



For questions about the product, our sales team is standing by (sales-de@yamaichi.eu). The catalogue for the complete product series, including all technical specifications, can also be requested or downloaded from our Web site.



About Yamaichi Electronics

Yamaichi Electronics is a market leader for Test & Burn-In sockets, connectors and connection systems. Their reliability and functional dependability are absolutely essential for the success of the overall project. Yamaichi Electronics established themselves on the world market very quickly as a manufacturer of high-quality, reliable components for demanding applications in various markets and applications: semiconductor, automotive, medical, telecom/datacom, industrial automation, mobile computing, smart phones, GPS systems, and many more.



Yamaichi Electronics Deutschland GmbH

Concorpark, Bahnhofstr. 20, 85609 Aschheim-Dornach, Germany

Tel. +49 (0)89 – 4 51 09-0

Fax: +49 (0)89 – 4 51 09-110

info-de@yamaichi.eu

www.yamaichi.eu

More from Electronic Components & Devices