Lyndex-Nikken Adds Newest High Productivity, High Power Spindle Speed Increaser to HiSpinner® Line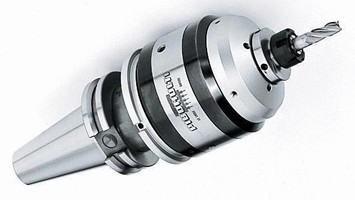 Mundelein, IL - (September 1, 2006) Lyndex-Nikken's latest HiSpinner offers substantial increases in spindle speeds for high-speed milling operations. Lyndex-Nikken's spindle speeder increases RPMs up to 40,000, and reduces the expected cycle times of a machine. This HiSpinner is especially ideal for light milling applications.

Featuring tempered and ground gears, it offers high precision performance and improved durability. Four pre-loaded spindle bearings result in smooth, precise rotation and enhanced surface finish quality.

As is the case with other HiSpinner products from the Lyndex-Nikken line, bearings and gear chambers are permanently sealed to prevent contamination.

All Lyndex-Nikken HiSpinners are available with coolant through the spindle or jacker coolant up to 1200 psi. They are lightweight and compact for easy ATC handling.

For more information, visit our IMTS Booth #E-2123 or log on towww.lyndexnikken.com, or contact Lyndex-Nikken Inc., 1468 Armour Blvd., Mundelein, IL 60060, Phone: (800) 543-6237.

Lyndex-Nikken Inc.
1468 Armour Blvd.
Mundelein, IL 60060
(800) 543-623
Web site: www.lyndexnikken.com.

More from Cleaning Products & Equipment