Position Sensors / Detectors / Transducers
LVIT Position Sensors target heavy-duty applications.
Press Release Summary: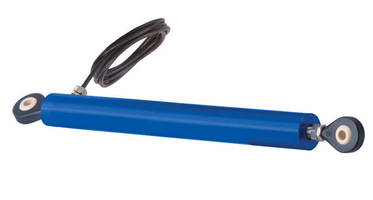 With their modular design, performance, and stroke-to length ratio, LDI-127 Series of contactless LVIT (Linear Variable Inductive Transducer) position sensors meet needs of in-plant or mobile equipment OEMs. Areas of use include factory automation as well as various industrial and commercial applications, including solar cell positioners, wind turbine prop pitch and brakes, chute or gate positions on off-road or agri-vehicles, and packing equipment.
---
Original Press Release:

Linear Variable Inductive Transducers for Position Sensing (Heavy-Duty)



The LDI-127 Series LVIT (Linear Variable Inductive Transducer) position sensors from OMEGA® are contactless devices designed for factory automation and a variety of industrial and commercial applications such as solar cell positioners, wind turbine prop pitch and brakes, chute or gate positions on off-road or agri-vehicles and packing equipment. The modular design, high end performance and excellent stroke-to length ratio make the LDI-127 sensors ideal for in-plant or mobile equipment OEMs.



With their compact device, superior performance, and excellent stroke-to-length ratio, the LDI-127 sensors are ideal for both industrial testing, laboratories, and OEM applications.



US Price Starts at $374.00



Link to the complete spec sheet page: http://www.omega.com/pptst/LDI-127.html#



The Hi-Res image: http://www.omega.com/presskit/files/LDI-127.jpg



Website: http://www.omega.com

E-mail: info@omega.com  

Tel: 1-888-826-6342



Twitter: @OmegaEng

Facebook: http://www.facebook.com/pages/Omega-Engineering/121219014465

Related