LVDT Transducers measure position in extreme environments.
Press Release Summary: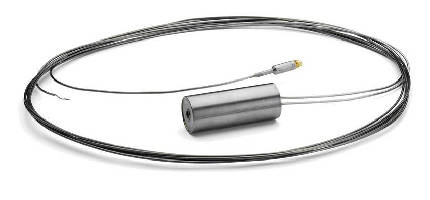 Made exclusively from inorganic materials, hermetically sealed XS-ZTR Series is suited for continuous operation over temperature range of -320 to +1,022°F and pressures to 2,500 psi. Units withstand total integrated neutron flux levels up to 3 x 1,020 NVT and total integrated radiation levels up to 1,011 RADs or 109 Gy. Joints are welded or brazed with high temperature alloys, while nickel leads are insulated with magnesium oxide and sheathed in stainless steel jackets.
---
Original Press Release:

High Radiation High Temperature and Cryogenic XS-ZTR Series LVDT Position Transducers



Measurement Specialties, Inc. (NASDAQ: MEAS), an expert in sensor design and manufacturing, has developed and commercialized the XS-ZTR Series LVDTs (Linear Variable Differential Transformer) to accurately measure position in high radiation, high temperature and cryogenic temperatures. The ZX-ZTR LVDTs are well suited for use in nuclear power plants, nuclear reactors, nuclear lab testing, space and rocket applications, silicon wafer fabrication equipment, particle accelerators, and cryogenic medicine.

XS-ZTR LVDTs are suitable for continuous operation over a temperature range of -320ºF to +1022ºF (-195Cº to +550ºC) and 2500PSI (175Bars) of pressure. They will survive a temperature of 1200ºF (650ºC) under 2500 PSI. These LVDTs withstand total integrated neutron flux levels of up to 3 x 1020 NVT and total integrated radiation levels of up to 1011 RADs or 109 Gy (gray).

The XS-ZTR is made exclusively from inorganic materials, mainly metals and ceramics. The hermetically sealed assembly features joints which are welded or brazed with high temperature alloys. Materials used in the construction of the XS-ZTRs are selected with matching expansion coefficients in order to minimize thermal stresses. The entire coil assembly is hermetically sealed into a stainless steel shell while the Nickel leads are insulated with magnesium oxide (MgO) and are sheathed in stainless steel jackets. The cables can be terminated by a sealed header or connector when required.

MEAS offers custom configurations for these high-tech XS-ZTR LVDTs, such as custom cable lengths, connectors installed at cable ends, and more. For less extreme temperature and radiation applications, MEAS offers several catalog products such as the HR and HCA Series LVDTs with the MRR option (mildly radiation resistant). If you have an application for this technology and wish to discuss it with our experts, please submit your specification and commercial requirements to Inductive.position-APPS@meas-spec.com.

About Measurement Specialties

Measurement Specialties, Inc. designs and manufactures sensors and sensor-based systems. The Company produces a wide variety of sensors and transducers to measure precise ranges of physical characteristics such as pressure, force, vibration, torque, position, temperature, humidity, fluid properties, mass air flow and photo optics. Measurement Specialties uses multiple advanced technologies - including piezo-resistive, electro-optic, electro-magnetic, variable reluctance, magneto resistive, digital encoders, thermistors, thermocouples, RTDs, capacitive, resonant beam, application specific integrated circuits (ASICs), micro-electromechanical systems (MEMS), piezoelectric polymers and strain gauges - to engineer sensors that operate accurately and cost effectively in our customer's applications.

Alain Biondi

Product Manager, Inductive Position Sensors

+1 805.277.7128 (Direct)

alain.biondi@meas-spec.com

More from Electronic Components & Devices