LVDT Position Sensors perform in harsh environments.
Press Release Summary: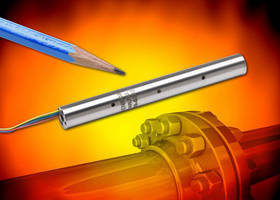 Environmentally robust CD 375 Series LVDT position sensors operate in temperatures of -65 to +400°F and in pressures up to 35 kpsi. Sensor case is vented to equalize pressure inside and outside LVDT linear position sensor. Measuring 3/8 in diameter, AC-operated sensors are designed for dynamic measurement such as valve and pneumatic cylinder positionings. They are available in full-scale measurement ranges from ±0.025 to ±1.0 in.
---
Original Press Release:

Miniature LVDT Position Sensors Resistant to High Pressure and Temperatures



Pennsauken, NJ. Macro Sensors now offers its Miniature AC-Operated LVDT Position Sensors in high pressure and temperature configurations to perform in harsh environments. Vented versions of the CD 375 Series of Miniature LVDTs are also available for operation in pressurized fluids.

Offering a lightweight, low mass core and a compact 3/8" diameter, these AC-operated LVDT Position Sensors are ideal for high response dynamic measurement such as valve position and pneumatic cylinder positioning as well as serving as integral parts of small mechanisms which require units to withstand high pressure and high temperature.

Environmentally robust, high temperature and pressure configurations of the CD 375 Series operate in temperature extremes of -65° F to +400°F (-55°C to +200C) and operating pressures of 35 kpsi. To accommodate such high pressure, the sensor case is vented to equalize pressure inside and outside the LVDT linear position sensor. Since vent holes in the housing expose the coils inside, fluid must be electrically non-conductive and chemically benign. Of course, many hydraulic oils meet this requirement. The high temperature ratings are achieved by using internal materials rated for these temperatures.

Available in full-scale measurement ranges from ±0.025" (±0.63mm) to ±1.0" (±25.0mm), the CD 375 Series LVDT linear position sensors offer a 50% larger core-to-bore radial clearance (0.012") than similar sized competitive units. Customizable with Teflon® bore liners, metric threaded cores, and lead wire exit points, the CD 375 Series LVDTs operate with any conventional differential input LVDT signal conditioners.

For more information, please refer to the web site at www.macrosensors.com/CD_375.html or contact the factory at: positionsensors@macrosensors.com.

About Macro Sensors

Macro Sensors' extensive line of linear and rotary sensors are used for position measurement and feedback in a variety of industrial applications including factory automation, motion control systems, metal fabricating, automotive assembly as well as power plants, gas/steam turbines. Incorporated in 1994, the
Company offers more than 200 years of cumulative design and manufacturing experience by its key staff
in serving its OEM and end-user international customer base. On June 1, 2005, Macro Sensors was acquired by AST, manufacturer of state-of-the-art (Micro Electro Mechanical Structures) MEMS-based pressure sensors, transducers, and transmitters. Common applications of AST sensor products are in industrial OEM, hydraulic systems, fuel cells, medical gases, HVAC/R, refrigeration, oil & gas exploration/production, and off-road vehicles. For more information on AST products and technology, visit the AST website at www.astsensors.com.

Macro Sensors Contact: Eileen Otto - (856) 662-8000 - positionsensors@macrosensors.com

Media Contact: Jean Carl - (610) 565-2288 - fjcarl@comcast.net

Website: www.macrosensors.com

More from Sensors, Monitors & Transducers